Research Stay at the Australian Institute of Marine Science (AIMS), October 2019 - February 2020
PhD student Lisa Röpke and ISATEC Master student David Brefeld spent four months of collaborative research work at the Australian Institute of Marine Science in Townsville, Australia. AIMS, Australia's tropical marine research agency, has been investigating marine ecosystems and processes across Australia's tropical north since 1972.
Lisa got invited to conduct her research investigating the use of antifoulants to improve juvenile coral growth and survival as part of the AIMS Reef Restoration Program.
The time at AIMS was very intense, but totally worth all the sweat and organization prior to and during the period. Before Lisa actually saw the facilities at AIMS, she had already imagined pictures from stories and photos. Now, being back in Germany, she can confidently say that AIMS and the National Sea Simulator (SeaSim) truly are a playground for coral reef scientists. The $35 million SeaSim located at the headquarters of AIMS in Townsville, is one of Australia's major marine research facilities, designed to enable sophisticated experiments on marine organisms under simulated environmental conditions. This place proved to be a highly developed technological natural seawater running facility with millions of options to set up experiments under a diverse range of conditions. Lisa felt totally overwhelmed and happy at the same time because she knew that this was the place she had always dreamed of working in. Since AIMS is a governmental agency, safety at work was important at all times and before any project related work started, many laboratory inductions needed to be completed. However, after Lisa & David had made it through the "administration jungle", the planned experiments were discussed together with the collaborating scientist and ecotoxicology expert Dr. Andrew Negri and other local scientists at AIMS, Dr. Carly J. Randall and Dr. Florita Flores.


Prior to the coral spawning in November, coral colonies from the Palms and Keppel islands in the Great Barrier Reef were brought to the marine aquaria facilities in the SeaSim with the AIMS research vessel. The coral colonies stayed in the seawater tanks for a couple of nights until three nights after full moon different colonies of the same species Acropora millepora spawned and released their gametes into white nally bins. The positively buoyant gamete bundles were pipetted into smaller containers and transferred to another aquaria room for separation and washing of sperm and eggs. Afterwards, cross-fertilization of different colonies was processed in bigger containers and after a few hours only, the fertilized eggs had developed into fully functional and actively swimming coral larvae. The larvae were transferred into rearing tanks with a filtered seawater volume of 400 L each. After this night shift, the larvae tanks were checked almost every hour in order to keep the larvae healthy for all scientists who had planned to use them in their experiments. This procedure kept going for 2 weeks after spawning.
When the larvae were a couple of days old, Lisa and David started to set up some settlement assays with Crustose Coralline Algae (CCA) chips and what researchers at AIMS nicely call "fairy dust". It basically means small shredded CCA powder, which is attractive for coral larvae and induces settlement behavior. Later on, also CCA extract was used to induce coral larvae settlement behavior. The settlement trials were tested on different surfaces, including Lisa's specific anti-biofouling coated surfaces. Also, larvae were used for swimming behavior testings and biofilm developments on the coated surfaces were monitored fortnightly with a very handy camera trolley with a full frame camera built by technicians and engineers in the workshop at AIMS, specifically adapted to the needs of coral scientists.
All in all, this research stay proved to be more than fruitful from different points of view. Lisa and David learned to work in a very sophisticated scientific environment with many experienced and well-known scientists in coral reef ecology & restoration. Moreover, the collaborating researchers have pronounced their satisfaction with this collaboration and interest in future collaborations and knowledge exchange with Lisa and the Leibniz Centre for Tropical Marine Research (ZMT) in Bremen. First insights into the work of this collaboration will be shared at the International Coral Reef Symposium (ICRS) in Bremen this year and the Australian researchers will be in Bremen to join interesting conversations about past, present and future scientific investigations.
Contacts
Lisa Röpke
+49 421 23800 - 134
This email address is being protected from spambots. You need JavaScript enabled to view it.
Working Groups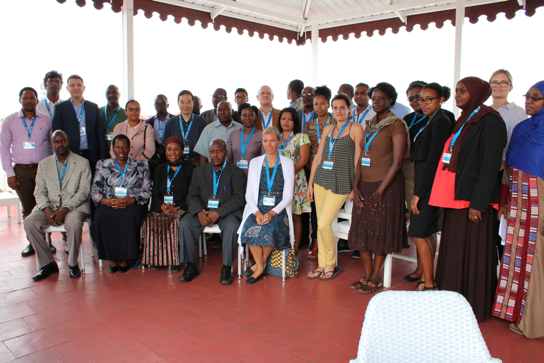 Fishing Data East Africa: FIDEA Workshop in Zanziar / Tanzania
2 - 13 March 2020, Stone Town, Hotel MARU MARU
After a short welcome by the local workshop organiser, Dr. Saleh Yahya of the Institute of Marine Sciences (IMS) in Zanzibar, we started the workshop on Monday, 2nd March with an introduction round and could see that all invited guests were represented.
Thanks to additional funding by the Food and Agriculture Organization of the United Nations (FAO) of approx. 30,000 Euros, we were able to invite not only participants from Zanzibar, Tanzania and Mozambique (FIDEA project partners) but also representatives of fishing institutions from the Comoros, Seychelles, Mauritius, Malawi, Kenya and Zambia.
Ms. Julia Hannig from the German Embassy in Tanzania was also invited and opened the workshop together with the Vice Director of the Tanzanian Ministry of Agriculture Livestock and Fisheries with warm and respectful words.
The workshop continued with the presentation of the UN sustainable develompent goals, including a detailed description of goal 14.4.1 (percentage of marine resources managed in a sustainable way) and the related data and reporting requirements. This sustainable development goal serves as framework for this workshop.
Subsequently, Mr. Kiran Viparthi (FAO), who had visited Mozambique, Tanzania and Zanzibar at the end of last year as a consultant and had interviewed the experts accordingly, presented their systems of fisheries data collection. In this context, synergies and differences were identified and the workshop participants discussed the question of whether it would be possible to simplify and standardise fisheries monitoring in the region. Finally, also guests from other countries of the region reported on their methods and problems of data collection in the fisheries sector.
It became evident that various methods of data collection and archiving are currently employed in the region (for details please refer to Mr. Viparthi's report), and that standardisation (to employ the eCas system already successfully employed in Tanzania) would be useful and could reduce costs. A fundamental challenge to be met in many places is the cooperation between fisheries research institutions and the ministries of the respective countries, which are responsible for the reporting of fisheries to the FAO.
On the following day (Tuesday, 3 March) further workshop participants arrived. The representative of the local WIOMSA office in Zanzibar held a welcoming speech in which he emphasized that WIOMSA also supported the FIDEA workshop financially because of its great importance for the West Indian Ocean region. In the following presentations, FAO colleagues Aymen Charef and Yimin Ye outlined the status of the world fishery, showing regional differences and also differences in the quality of reporting. In the West Indian Ocean region, reporting has remained rather weak and only about 30% of the countries have provided information on the share of their resources managed in a sustainable way (SDG 14.4.1). Worldwide, approx. 50% of all countries meet their reporting obligations.
Another focus of the day was the presentation of the questionnaire on national fisheries, which the FAO will send to the responsible authorities of the countries. After having been returned, the information will be evaluated and checked for consistency before each country's information on fisheries will be included in the regional and global databases. The questionnaire was presented in detail and questions on the different methods of stock analysis and the classification of fisheries stocks were discussed. In the discussion that followed, it became clear that priorities regarding the question of which stocks are to be included in the national data collection are different between the countries. In many cases, data from industrial fisheries are collected rather than those from small-scale fisheries (which are very important locally).
Wednesday, March 4, 2020
09:00 a.m.
Today we start our third day of the FIDEA workshop.Some of the political decision makers of the region who were present for the first two days have already left and other participants have joined us for the more technical part of the workshop.
Yesterday evening we had a reception directly on the beach at the SeaResort Stonetown, a 20 minute car ride away from Stonetown centre. At a temperature of 28°C, delicious finger food, harmonious background music and cold drinks, the evening offered a relaxing contrast to the 10-hour workshop day at the MARU MARU Hotel.
Participants are slowly dropping in and the FAO colleagues who will be leading the course today are still sorting out their presentations.
11:30 a.m.
At the moment, all workshop participants are busy checking or completing the resources reference list of their countries in the FAO country questionnaire. After lunch break, the FAO colleagues will present the FAO online portal (Virtual Research Environment), using sample data sets to introduce and test different stock analysis methods.
Contacts
Working Groups
From vision to mission: All-Atlantic Ocean Youth Ambassador Summer School in Galway, Ireland
Recently, young marine scientists and leading members of the Galway Statement, Belém Statement and EU Horizon 2020 AORA-CSA and AANChOR coordination and support actions (i.a. Dr. Werner Ekau, ZMT) met for the first summer school of the All Atlantic Youth Ambassadors in the Irish city of Galway. In a city, located on the west coast of Ireland, consistently influenced by the Atlantic Ocean, the group was welcomed at an icebreaker event with traditional Irish music. The melodies were so catching that already then, some volunteers started learning the traditional Irish dance, a good omen for strong cooperation in the following days.
Hosted by the Marine Institute Ireland, this summer school saw Youth Ambassadors from 14 countries, framing the Atlantic Ocean, gathering to develop campaigns to increase ocean literacy and awareness for the Atlantic Ocean within communities and across countries. Kick-off was day one with speeches by the Irish Minister of State for Gaeilge, the Gaeltacht and the Islands, Seán Kyne, and members of the European Commission (Healthy Planet Directorate, DG Research & Innovation, John Bell and Sigi Gruber), as well as members of different Institutions and organisations, like the Brazilian Ministry and South African Department for Science and Technology and the US National Oceanic and Atmospheric Administration (NOAA). "The young generation must do things differently if we want to have a better world for the future. And how we do this is the big question for the All Atlantic Youth Ambassadors who will be tackling this at the summer school", appealed the Minister of State. "Do the impossible... but – no pressure!", added CEO of the Marine Institute Galway, Dr. Peter Heffernan.
Presentations, Inspiration und Discussions
In the following days, we were trained in workshops about public work, social media and project development whilst being supported throughout the process by an international team and the National Youth Council of Ireland. The permanent presence of a cameraman and a social media expert made all of us aware that this was going to become something big!
And this is how we were encouraged to develop ideas and present them at the final day. These ideas, being in line with the Galway (2013) and the Belém Statement (2017), shall promote ocean literacy and improve ocean health through the implementation of projects and campaigns. The task is to reach out to local communities in different countries and communicate the importance of the Atlantic Ocean for them and the world, not only for fisheries and tourism but for the global climate, cultures and traditions alike. The Summer School aimed at equipping Youth Ambassadors with the knowledge and skills to become actors for change for the Atlantic Ocean using science communication.
These five days were packed with intensive work, fascinating topics and people. Now, we are all back in our home-countries with six months to develop our ideas. In February 2020 we will present them before the European Commission at the Charlemagne Building in Brussels
By Natalie Prinz, All-Atlantic Ocean Youth Ambassador, Germany
The All-Atlantic Ocean Youth Ambassador Summer School took place in Galway (Ireland) from 24th - 27th August and was initiated by the EU Commission's AANChOR Projekt (All AtlaNtic Cooperation for Ocean Research and innovation). The ZMT is leading the project on behalf of the German Marine Research Consortium (Konsortiums Deutsche Meeresforschung, KDM) and is responsible for the two work packages Capacity Development and Information & Data Sharing; AANChOR is a joint project from members of the KDM, ministries, funding organisations, governments, intergovernmental and non-governmental institutions as well as consultancies.
Two weeks of joint fieldwork in Nakasaleka District on Kadavu Island, Fiji
This fieldwork period was jointly planned with a team from USP's Institute of Marine Resources (IMR; Dr. Simon Harding and RA Kalisiana Marama, Western Pacific Coastal Fisheries Project (WPCFP), https://www.usp.ac.fj/index.php?id=wpcfp), and our co-supervised intern Ulamila Matairakula, who has joined SOCPacific for 6 months (Sept 2019 - Feb 2020). In fact, this means that we tried to combine two project activities during this trip: 1) a Marine Resource Value (MRV) survey designed and conducted by IMR to explore the economic value of coastal fisheries in Kadavu, with 2) SOCPacific's fieldwork on the sociocultural value of these fisheries and on the interwoven fisheries and conservation issues.
A good correspondence with the Kadavu Provincial Office resulted in the chance of being accompanied throughout the fieldwork in Nakasaleka District by Alipate Nakasava (Assistant Roko Tui of Kadavu) and Kelera Kuli (Conservation Officer) from the Provincial Office in Vunisea. In this District, the team was based in three villages: Matasawalevu, Kavala, and Lomanikoro.
Elodie and Annette, often accompanied by Ulamila, conducted qualitative interviews and observations in Matasawalevu (in direct proximity of the Naiqoro Passage Spawning Aggregation Marine Reserve, established in November 2018) and Kavala (in the same bay as the Fisheries station, as well as where the ferry from the capital arrives twice a week). These were in the format of talanoa sessions with various community members in both formal and informal settings, with the least disruption to their planned events and daily activities (e.g., while preparing fish). The interviews covered several topics, such as local fishing methods, the connections between local fisheries management and culturally significant fishes, and changes since the establishment of this gazetted marine protected area). The IMR team visited 12 villages in Nakasaleka District (Matasawalevu, Nukuvou, Vacalea, Tiliva, Lavidi, Kavala, Solotavui, Lawaki, Lomanikoro, Nakaugasele, Nakaunakoro, Nakoronawa) and a few settlements for the MRV survey, based on questionnaires about fishing and gleaning activities.
In addition, the team organized drawing sessions in two primary schools, Tiliva District School and Nakasaleka District School, following the strict transdisciplinary protocol developed with specialists from IRD, aiming to explore the views of school communities on the sea and the resources therein. The activity involved children from Class 4 to Class 8, and was facilitated by the head teachers and teachers of the respective schools, who we would like to warmly thank for their welcome and assistance.
This joint fieldtrip allowed for the reinforcement of the SOCPacific's partnership with USP, in particular with IMR. It aimed to establish interdisciplinary links between SOCPacific and WPCFP, to be pursued in 2020 with the cross-analysis of the data we have collected and the feedback we will provide to the people of Nakasaleka District.
We are deeply grateful for the hospitality the team has received in Nakasaleka District, and for being allowed to learn a lot.
Photos by Elodie Fache
Contacts
Dr. Annette Breckwoldt
+49 421 23800 - 820
This email address is being protected from spambots. You need JavaScript enabled to view it.
A group of sci­ent­ists from Leib­niz Centre for Trop­ical Mar­ine Re­sear­ach (ZMT), the Royal Neth­er­lands In­sti­tute for Sea Re­search (NIOZ) and MARUM – Cen­ter for Mar­ine En­vir­on­mental Sci­ences went to Cur­a­cao to gather data on the mod­ern and fossil reefs sur­round­ing the is­land. Their ex­ped­i­tion will last from Au­gust 23rd un­til Septem­ber 3rd, and they will use state-of-the-art ap­proaches to un­der­stand how reefs have re­spon-ded and will re­spond to warmer cli­mates and higher sea levels.

In parallel, they will also test low-cost instruments (such as portable sonars and drones) to develop simple (and fun) methods to gather high-resolution 3D data of nearshore ecosystems. The research team as a twofold goal. First, they are set out to acquire high-resolution data on coral reefs to understand their functioning today and in the past, with the hope of using this knowledge as a key to understand future changes. Second, they aim to develop a setup to generate reproducible nearshore data that can be used not only by scientists but also by citizens at large, e.g. elementary school pupils. This citizen science approach, if successfully developed and implemented, may allow to document benthic dynamics in an unprecedented temporal and spatial resolution in nearshore environments. In the long run, this project will allow to acquire data to advance our knowledge on how reefs responded to climate change in the past, how they are responding today and how they will likely respond in the future.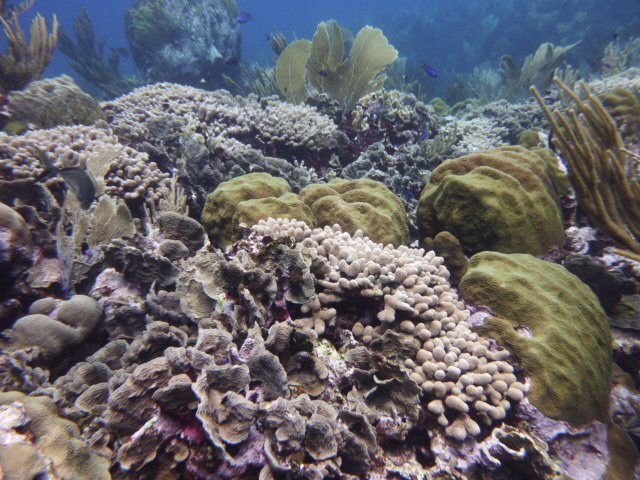 Coral near Curacao | Photo: Fleur van Duyl, NIOZ
The research team as a twofold goal. First, they are set out to acquire high-resolution data on coral reefs to understand their functioning today and in the past, with the hope of using this knowledge as a key to understand future changes. Second, they aim to develop a setup to generate reproducible nearshore data that can be used not only by scientists but also by citizens at large, e.g. elementary school pupils. This citizen science approach, if successfully developed and implemented, may allow to document benthic dynamics in an unprecedented temporal and spatial resolution in nearshore environments. In the long run, this project will allow to acquire data to advance our knowledge on how reefs responded to climate change in the past, how they are responding today and how they will likely respond in the future.
Coral reefs are one of the most valuable ecosystems on our planet. It is estimated that their global net value is 2.7 trillion US dollars, as they pr. Despite this immense value, we are witnessing a rapid, anthropogenically induced decline of coral reefs worldwide. It is estimated that human impacts and climate change together threaten approximately 75% of the world's coral reefs. We are at risk of losing the ecosystem services that coral reefs provide within the next 2 to 3 generations. An immediate scientific and conservation challenge is the facilitation of natural reef resilience in the face of global change. At the same time, relic reefs from ancient warmer periods of the Earth's history are one of the best tools to understand past changes and frame possible future climate traject.
Back in 2013, the NIOZ-MARUM Tandem Cooperation was initiated with the aim of joining forces to understand the consequences of climate change and human impacts on the world oceans and coasts. Since then, Paolo Stocchi (NIOZ) and Alessio Rovere (MARUM) have started to use fossil corals to quantify tides and sea-level changes deep in the past. Using fossil reefs in the Caribbean and elsewhere as an analogue for a future warmer world, they understood that there is a growing need to model the dynamic interactions between coral reef organisms and ocean hydrodynamics (waves and tides). However, this requires the knowledge of micro-scale processes acting on much shorter time-scales than the usually long-term ones associated with climate changes. Paolo and Alessio quickly understood that their expertise alone was not enough to work on these problems. The presence at NIOZ of Fleur Van Duyl and the arrival of Andi Haas (formerly at San Diego State and Scripps, USA) brings the necessary "know-how" of experimental and theoretical approaches to turn early ideas into a novel research effort. The partnership with a researcher expert on gathering data on coral reefs with drones, Elisa Casella of the Leibniz Centre for Tropical Marine Research (ZMT), will also allow them to map selected coral reefs in Curacao with an unprecedented perspective and level of detail. The team is completed by Ciro Cerrone, a PhD student at the University of Napoli, currently working on a DAAD visiting grant at MARUM, who is expert on paleo sea level changes.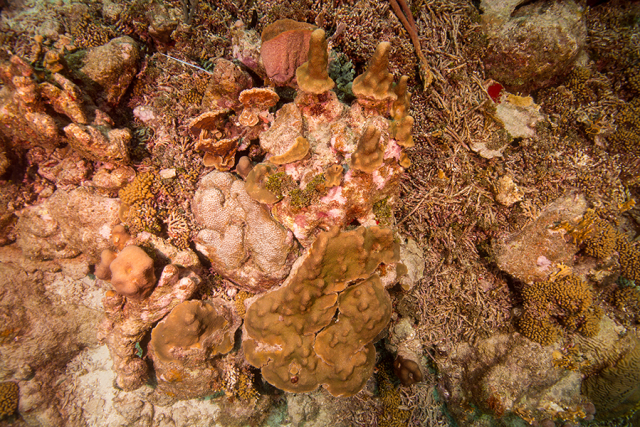 Quadrant (1x1 meter) of living coral at 10 meter depth near NIOZ buoy 2. | Photo: Fleur van Duyl, NIOZ


Understanding reef resilience
Curacao presents unique characteristics that make it the "one in a thousand" destination for the research team. First and foremost, the team will take advantage of unprecedented efforts by NIOZ scientists, who have created the longest available time series on coral reef benthic cover along the reefs Curacao and Bonaire. This time series, consisting of 24 permanent benthic photo quadrants has been documenting community dynamics across different water depths since 1973. A drastic decline in coral cover from 70 per cent to less than 10 per cent was recorded from 1973 until 2010. However, despite the devastating reports from many other coral reef locations around the world within the last decade, these Caribbean reefs showed a slight recovery from 2010 until now without tangible alleviations of the overall anthropogenic pressure they were subjected to. What are the underlying mechanisms of this resilience? Paolo, Andy, Fleur and Elisa will use drones, bathymetric surveys and different types of sensors to answer this question.
Second, Curacao has preserved fossil reefs from at least two past warm periods of the Earth's history, when sea level was higher than today and the West Antarctic Ice Sheet was likely partially collapsed. Part of the research team will investigate these reefs to understand how they relate to their modern counterparts, in terms of both community and structure. How were the fossil reefs surviving in a warmer climate? Is it possible to understand past reef resilience by comparing data on the fossil reefs to their modern counterparts? How high was sea level during these past warm periods? To answer these questions, the geologists Alessio Rovere and Ciro Cerrone will survey the fossil reefs with the aim of characterising their composition, they will map their 3D extent with a drone and will establish their elevation with a highly accurate GPS system.
Methods and expected outcomes
The research team will use the Curacao expedition to test a series of affordable, portable and easy-to-deploy mapping systems. For example, Paolo will use a Stand Up Paddleboard connected to a fishfinder, a GPS and a GoPro camera to map shallow water reefs. Elisa will employ a portable and inexpensive drone (that was registered at the Curacao Civil Aviation Authority) to gather high-resolution 3D imagery of both modern and fossil reefs. The team hopes that this will be the first step towards setting up citizen science initiatives in Curacao, in order to foster the collection of an ever-growing base of highly needed data. Using cheap and portable modern technology to gather useful data at high spatial and temporal scales may prove transformative in understanding the many processes dictating the functioning, and the resilience of reefs.
The 2019 NIOZ-MARUM Expedition to the Curacao coral reefs was born out of the shared scientific interests of multiple PIs from different Oceanographic institutions, who joined both funds and expertise to start this collaboration:
Paolo Stocchi (NIOZ COS) is a geophysicist whose expertise is in the numerical modelling of physical oceanographic processes.
Alessio Rovere (MARUM, University of Bremen) is a marine geoscientist interested in reconstructing past sea-level fluctuations during warmer periods.
Elisa Casella (ZMT, Bremen) is an environmental engineer specialized in using UAV platforms applied to the study of coastal environment and coastal changes
Andi Haas (NIOZ MMB) is a marine biologist with a strong background in coral reefs biogeochemistry and ecology.
Fleur van Duyl (NIOZ MMB) is a marine ecologists with close to unmatched knowledge on the ecosystem functioning of Caribbean reefs.
Ciro Cerrone (DAAD Visiting PhD Student, MARUM) is a geologist working on paleo sea level changes.


---
August 28, 2019
Modern vs Paleo corals
A few pictures showing a modern living Diploria found at -2m below sea level, and its ancient predecessors (grand grand grandma!) found at 5-10 m above sea level in Curacao. The latter were alive during the Last Interglacial Stage (125,000 years BP) when Antarctica and Greenland ice sheets retreated (because of warmer climate) and cause mean sea level to rise up to 10 m above present.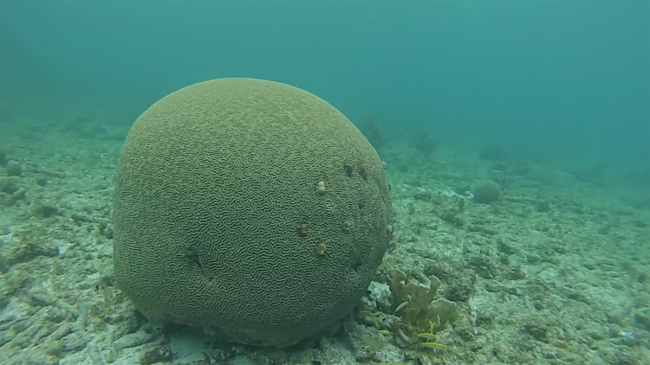 A modern living Diploria found at -2m below sea level | Photo: NIOZ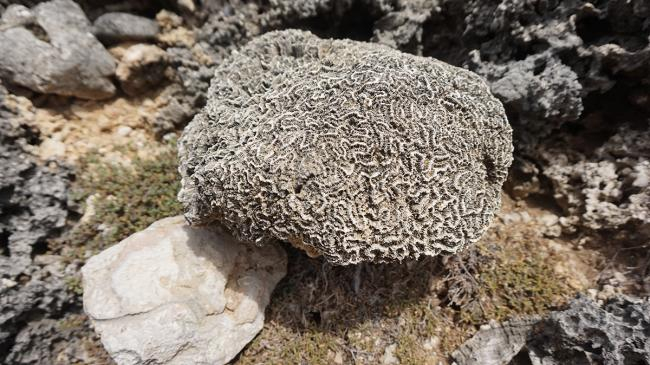 Ancient coral from when the sea level was more than 5m above present-day because of warmer climate conditions | Photo: NIOZ
Paolo Stocchi
Working Groups