Scientific diving at ZMT
Scientific diving is an indispensable method for many aspects of marine sciences and is a prerequisite for many of the approaches undertaken by ZMT researchers. Examples include physiological studies on coral reef organisms, reef ecology experiments and surveys, acquisition of environmental data, and sedimentological as well as biogeochemical sampling. In response to the demand for diving as a fundamental research tool, the ZMT has become a member of the German Commission for Research Diving (KFT), and is a government-approved training facility.
Diving centre
The scientific diving centre at ZMT (SDC) serves its scientific departments through advice, logistics and training. The unit consists of a team of scientists and staff trained as instructors and assistants and is headed by the diving safety officer. Together they train new research divers and assist in planning scientific dive missions (risk assessments, preparing a rescue chain). Weekly fitness training is offered in the swimming pool of the University of Bremen. Provision and maintenance of equipment rounds up the duties of the diving unit.


Training programme
In collaboration with the Alfred-Wegener Institute Helmholtz Centre for Polar und Marine Research (AWI), the ZMT has developed a course programme offering advanced training in tropical research diving. The course is a vocational training course approved by the German Professional Association of the Construction Industry offering a qualification as "Certified Research Diver " and "European Scientific Diver (ESD)" that is recognized Europe-wide. It will be offered annually with a capacity of 12 scientists or students. In 2015 and 2016, the two-part training course has taken place on the Island of Helgoland (Germany) and in Kristineberg, Sweden.


Training components
advanced diving training for students in research diving
theory lessons, including diving medicine and technical aspects
training for already advanced divers in diving supervision procedures as applied in professional diving
legal and practical aspects of planning and supervising a dive project
rescue procedures


Prerequisites for enrolment in the course: "Certified Scientific Diver":
CMAS-2-star diving qualification or equivalent
30 hours of logged diving experience
5 dives logged deeper than 25m, 15 dives in 15-25m depth
G31 diving medical exam for diving at work
DLRG rescueswimmer Silver
First aid course of 8h (not older than 2 years)
Entry exam in pool fitness and theory
Events

I. 2018 course "Certified Research Diver / European Scientific Diver"
In 2018, the Biological Station Helgoland (Alfred Wegener Institute, Helmholtz Centre for Polar and Marine Research (Germany) and The Lovén Centre - Kristineberg (University of Gothenburg - Sweden) in cooperation with Leibniz Centre for Tropical Marine Research (ZMT) and Alleco Finland offer the 4th international course "European Scientific Diver" within the framework of the ESD regulations published by the European Scientific Diving Panel (ESDP) of the EU-Marine Board.
The course will be held in two parts from July 3rd – July 17nd in Helgoland (Germany) and from October 15th – October 29 th in Kristineberg (Sweden). The examination period will be from October 30th to Nov 2nd in Kristineberg.
To join the course, a competence test comprising a theoretical and practical examination on the level of CMAS** or PADI Rescue-diver must be passed. Respective tests will be offered in Sweden (Kristineberg), Finland (by Jouni Leinikki at Alleco), Germany (Bremerhaven/Bremen) or by contact at a research institute in your home country that will be approved by the course leaders. An accompanying E-learning seminar on scientific diving will be held starting in the June 2018.
The course includes an intense training in professional diving skills for scientific purposes in theory and praxis and ends with a theoretical and practical examination by the "German Examination Board for Scientific Divers" (Deutsche Prüfungskommission für Forschungstaucher) and by Dykarskolan, Stockholm. Successful participants will be certified according to the respective national rules for scientific diving and as "European Scientific Diver" according to the ESDP framework.
Download official course announcement and application instructions
Contact for further question This email address is being protected from spambots. You need JavaScript enabled to view it.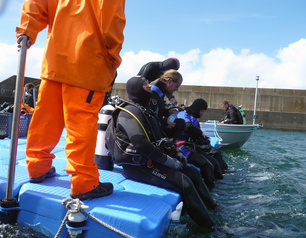 I. Scientific Diving Course 2017/18
Dates for the Scientific Diving Course 2017/18. The Scientific Diving Training Course 2017/18 is held in Bremen and Eilat (Israel) for the first time.
1st Part (Bremen)
October 30, 2017 to November 13, 2018 (Date change!!!)

2nd Part incl. Examination (Eilat/Israel)
February 25 2018 to March 16, 2018

Deadline for registration July 10, 2017. Please register with Dr. Michael Schmid.
Details on the Scientific Diving Training Course 2017/18 and the necessary prerequisites can be found in the

PDF.
II. KFT Symposium 2017
The commission for scientific diving in Germany is hosting a symposium on "Scientific diving in Germany and Europe". The two-day event will take place from November 2 to 3, 2017 at the Alfred-Wegener Institute Helmholtz Centre for Polar und Marine Research (AWI) in Bremerhaven. An ice-breaker dinner will kick-off the meeting on the November 1, 2017 at the Deutsche Schifffahrtsmuseum.

The symposium is jointly organised by the Alfred-Wegener Institute Helmholtz Centre for Polar und Marine Research (AWI), the Leibniz Centre for Tropical Marine Research (ZMT) in Bremen and the Deutsches Schiffahrtsmuseum (DSM) in Bremerhaven.

Scientific Divers will be given the opportunity to present their scientific work, discuss with colleagues and broaden their professional network.

In a mixture of workshop and symposium the following four key topics will be addressed:

Cross Approval of Certificates from the AAUS (American Scientific Diver), ADAS (australian Scientific Diver) and ESD (European Scientific Diver)
Modern Methods in Aquatic Science
Capacitiy Development in Scientific Diving
Interesting Scientific UW-Projects

Registration for the KFT symposium.
---
Scientifc diving in the German media:
"Eine profunde Ausbildung"- Über das Berufsbild des Forschungstauchers
Unterwasser (20. August 2015)