Tropical seas and coasts are drivers of the global economy with vast potential for innovation and growth. Sectors such as aquaculture, fishery or marine biotechnology – to name only a few – are of central importance for an economically sound as much as an environmentally- and socially sustainable development.
ZMT provides relevant services in close exchange with our partners, through consultation, contract research and cooperation tailored to the needs and requirements of the clients. ZMT's extensive and interdisciplinary pool of experts, 25 years of world-wide experience throughout the tropical belt are the basis to deliver reliable, useful, and tangible results and products.
If desired, ZMT's approach includes a holistic look, taking not only business development in the tropics into consideration, but also looking at governmental affairs, international organisations and development cooperation as well as the extensive ZMT alumni network.


---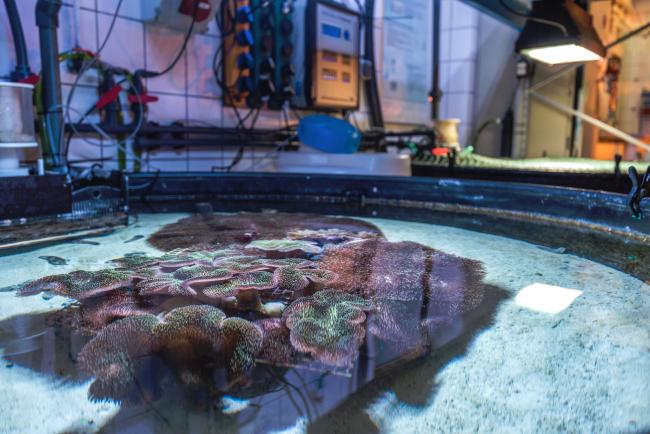 ZMT works on developing multitrophic aquaculture in Southeast Asia | Photo: Tom Vierus, ZMT
Targeting sustainability, approaching bioeconomy
Depletion, pollution and climate change are severe threats to the ecosystems of tropical seas – and to the livelihood of inhabitants of tropical coastal areas. 2.6 billion people rely directly on seafood as an essential protein source. The global demand for food and other resources from tropical seas is increasing as well.
The sustainable use of natural resources is crucial to cope with these challenges. Bioeconomy – a sustainable economy based on renewable biological resources – is the way to ensure the health of ecosystems, tropical coastal inhabitants and consumers worldwide. This applies not only for sustainable fishery and aquaculture, but also for environmental friendly coastal infrastructure development.
The Leibniz Centre for Tropical Marine Research hosted the first "ZMT Networking Event Marine Bioeconomy" on May 17 and 18, 2018 in Bremen. Short presentations, poster and workshops sessions have set a framework for the inter- and transdisciplinary exchange between science, industry, politics and non-governmental organisations. During the event, the participants got the chance to connect and to develop ideas for joint projects.