Around 50 doctoral candidates work at ZMT, conducting research for their projects in working groups, and complete their studies under the guidelines set out in the ZMT Doctoral Studies Regulations. Research for a doctoral degree is officially carried out at a partner university, like University of Bremen, Jacobs University Bremen, Carl von Ossietzky University of Oldenburg or Kiel University.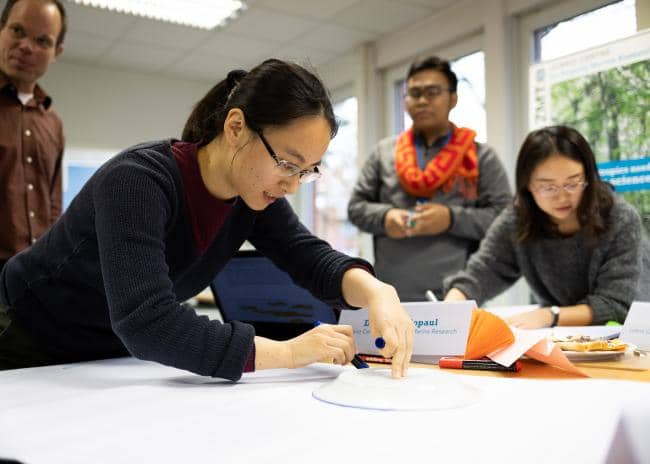 Doctoral Studies Programme
The ZMT's doctoral candidates' programme is aimed at all doctoral candidates working towards their degrees at the ZMT on a project or a scholarship. As set out in the Doctoral Studies Regulations, the degree is to be completed in three years, punctuated by relevant milestones.
Every doctoral researcher at ZMT attends a Welcome Week, which is held in the autumn of every year. At the heart of the "ZMT Welcome Week" is a three-day course on the ZMT's mission. It also features one day of intercultural training that all doctoral students complete. Beyond this, doctoral students may attend any course at the ZMT Academy. They are also offered advice on the matters relating to the doctoral programme or career development.
Thanks to a close partnership with other thematically related graduate schools in Bremen (e.g. GLOMAR – Bremen International Graduate School for Marine Sciences; BIGSSS – Bremen International Graduate School in the Social Sciences; MarMic – Max Planck Research School for Marine Microbiology), doctoral candidates can take part in a wide range of supplementary courses in their discipline and acquire a wealth of soft skills. They are also free to attend courses offered by the Leibniz Association.
Doctoral candidates finance their studies with an employment position (66.6%) on a research project or with a scholarship. They are given a workplace in an office at ZMT and may take advantage of the institute's infrastructure.
There is a Doctoral Studies Circle at ZMT, which discusses and decides current questions on the the doctoral programme. All status groups are represented on it by a departmental head, two working group heads, post-doctoral researchers, and doctoral candidates. The Doctoral Studies Circle meets on a monthly base.
SUTAS Graduate School
In 2013, ZMT obtained external funding for SUTAS – the Leibniz Graduate School in the Leibniz Competition. At the end of the funding period in late 2016, the structural elements of this graduate school were merged with the ZMT's doctoral programme.
Capacity Development
ZMT academics are also involved in training doctoral candidates in partner countries, including Senegal, Tanzania, South Africa, Indonesia, and Brazil. As an example, the institute is a partner on the CEMarin Colombian-German doctoral students' programme (Santa Marta, Columbia) run by the DAAD.
Vacancies for Doctoral candidates at ZMT can be found here.