As part of my PhD, I applied and was awarded with the first ever Dr. Ross Robertson Fellowship. The fellowship is aimed at the field study of coral reef fishes. During the span of only one year, I was able to organize, manage and successfully complete four field trips across the Caribbean and Gulf of Mexico. On top of being able to reach our scientific targets through photographing and sampling over 500 individual fish, the experience was lifechanging and one that I will always be grateful for.
The Dr. Ross Robertson Fellowship was a great opportunity to build upon the work I completed as part of the first chapter of my PhD. I developed a fully quantitative method for the analysis of colour pattern phenotypes from photographs in the coral reef fish Hypoplectrus. We then paired this with genomic data to provide the most detailed description of the genetic basis of colour pattern variation ever done in reef fishes (Coulmance et al., 2023; Research in short: colour patterns in hamlets).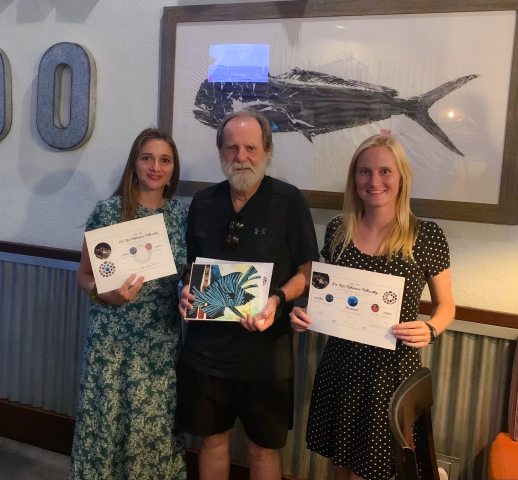 Floriane Coulmance, D. Ross Robertson, Melanie Heckwolf, holding certificates of accomplishment
Since this work was limited to 100 samples, I could use the awarded fellowship to go in the field with the aim of expanding the dataset geographically and get more hamlet species. Therefore, the aim of the fellowship was to take photographs and collect tissue samples of the hamlets from four different locations across the Caribbean and Gulf of Mexico. The fellowship was based in Panama at the Smithsonian Tropical Research Institute and more particularly at the Bocas del Toro Research Station from where I did part of the field work and organized trips to Trinidad and Tobago, St John (U.S. Virgin Island) and Veracruz (Mexico).
My first stop was Bocas del Toro. Melanie Heckwolf, postdoc at ZMT with Oscar Puebla and at the Smithsonian with Owen McMillan, joined me along with Jakob Gismann, PhD student at the University of Groningen. Together, we had to learn the field methods of catching fish, taking standardized photographs and collecting tissue samples. And all this had to be done while… scuba diving!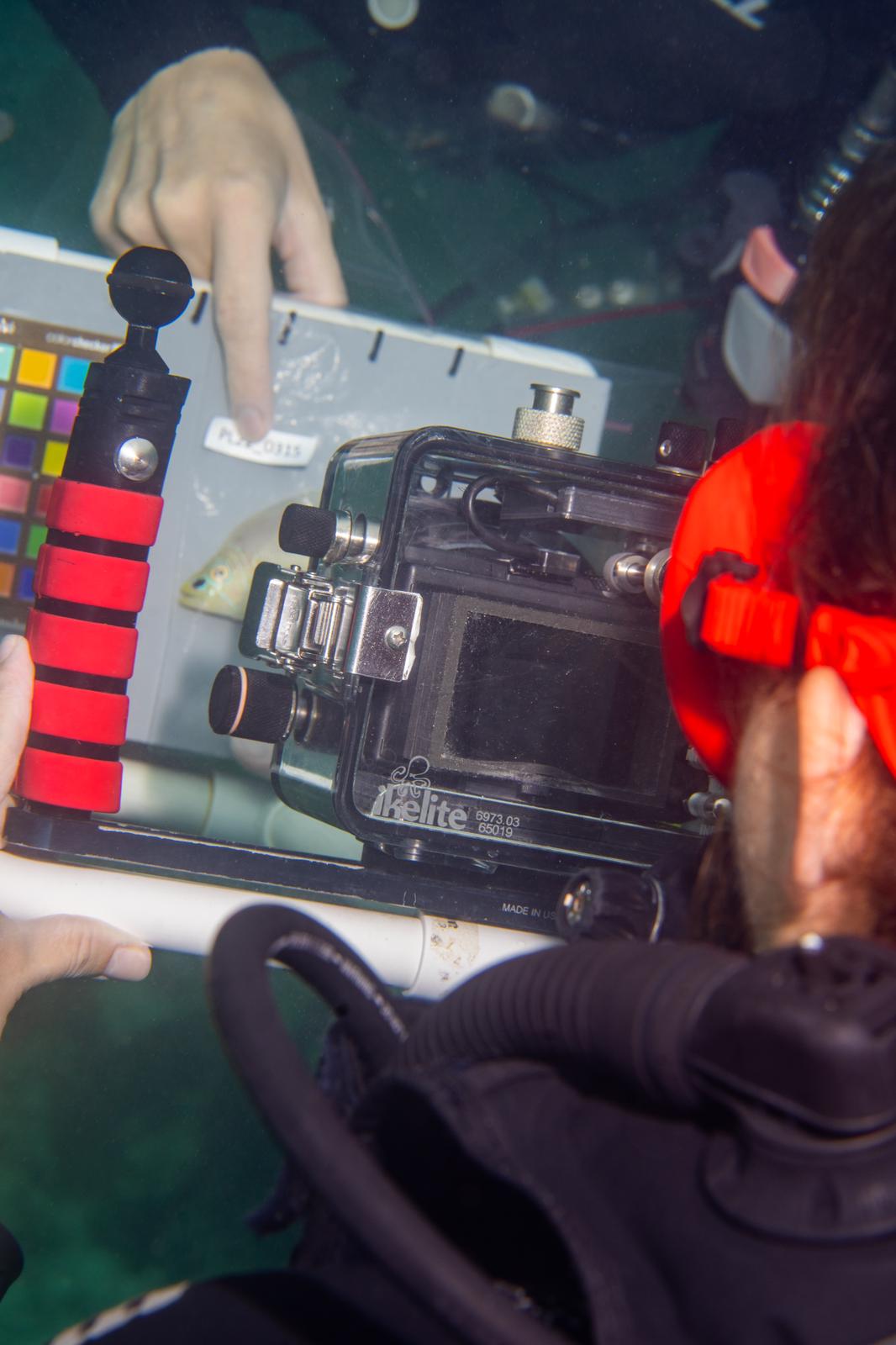 Butter hamlet, Floriane Coulmance, Close up of the underwater photo setup and work
Within a month and thanks to Melanie's knowledge of the area we were able to explore the first reefs and rapidly improve our catching method. We were then all set for the rest of the trip! Being based in Bocas del Toro for most of the year, Melanie and I achieved an enormous amount of work and explored a huge part of the archipelago, photographing and collecting tissue samples for more than 200 fish. It is thanks to local knowledge, from boat drivers to local dive guides, and the amazing support we got from station staff, that we were able to explore and find new interesting reefs and rare hamlets. In the archipelago, we found three rare hamlets, one - the masked hamlet - had not been recorded in the area for over ten years!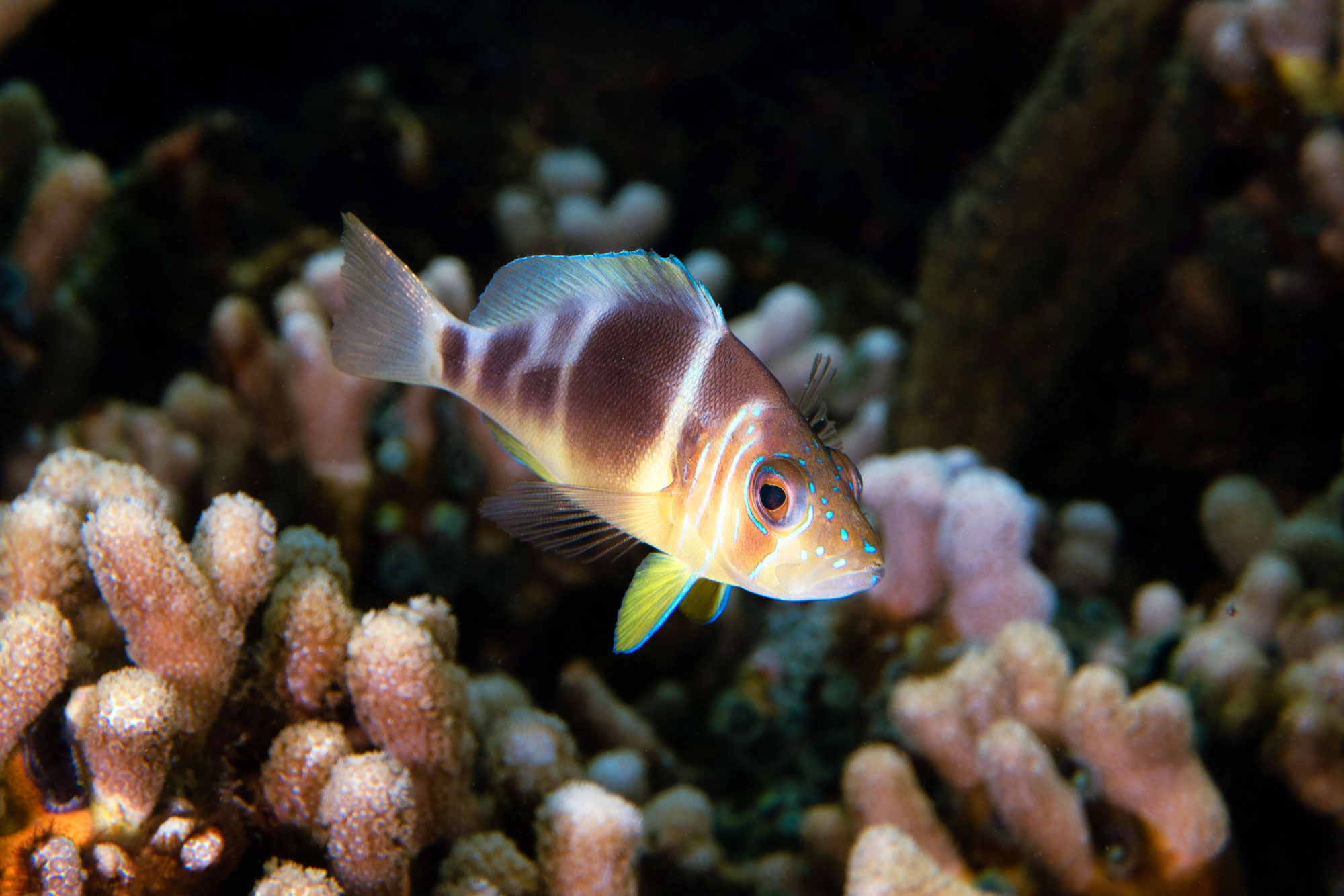 Barred Hamlet (Hypoplectrus puella), Bocas del Toro Archipelago | Photo: Floriane Coulmance
Our next stop, Tobago, was a very nice surprise! Despite the bad weather and diving conditions which led to some dives being cancelled, we got great support from our team: two dive masters, Randy Davis and Shomari Charles, and fisherman Irwin Nicholls. Thanks to their knowledge and long experience on the reefs of Tobago, we were able to make up for cancelled dives and get 69 samples. On this trip, we spotted one bluelip hamlet (Hypoplectrus affinis; Puebla et al., 2022), a rare species in Tobago. Unfortunately, it was right at the end of a dive so we had to surface before catching it. We went back to the exact same spot several times, but never saw it again. Melanie and I will forever be grateful for the support we received from the Crown Point fishing and watersport community. Thanks to the warm welcome from locals, not only were we able to reach our scientific goals but we also were able to learn a lot about the culture and history of Tobago.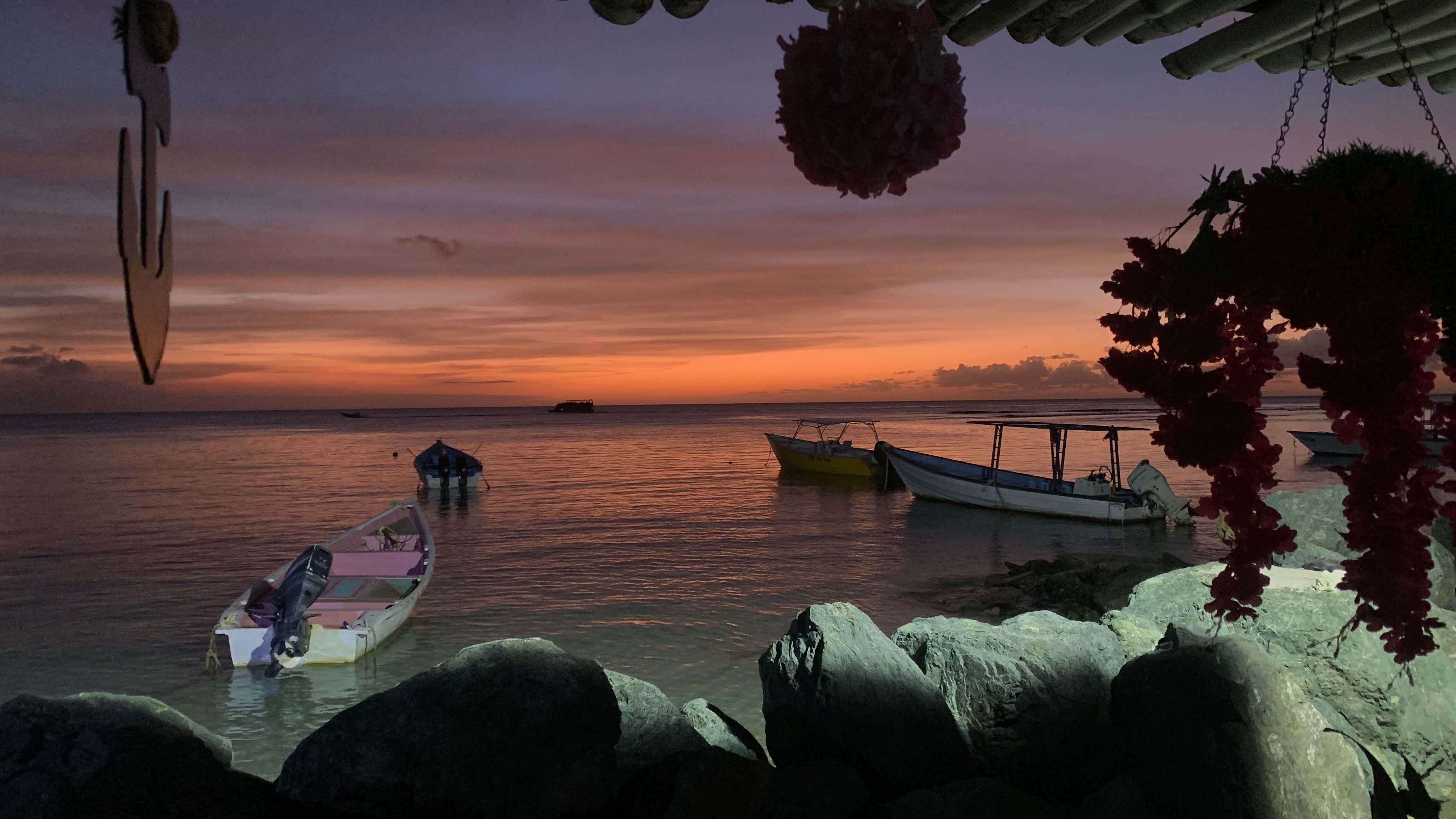 Maestro's boat - The Amazing Grace - at sunset in Tobago | Photo: Floriane Coulmance
Then, we moved on to St. John in the U.S. Virgin Islands. We were joined by the award-winning volunteer photographers, Allison and Carlos Estapé and their friends Andre Hernandez and Serenity Mitchell from a local dive shop, and photographers Alasdair Dunlap-Smith, and Lee and Sarah Richter. This trip was also an enormous success, and we caught and photographed 136 fish, half of them in the first three days! St John was an extraordinary place to be in, not only were there a ton of hamlets but we were supported by an amazing team of fish enthusiasts. Because everyone was so passionate about fish and really wanted to help scientists, we got extremely good diving deals and learnt a lot about techniques to find rare fish species.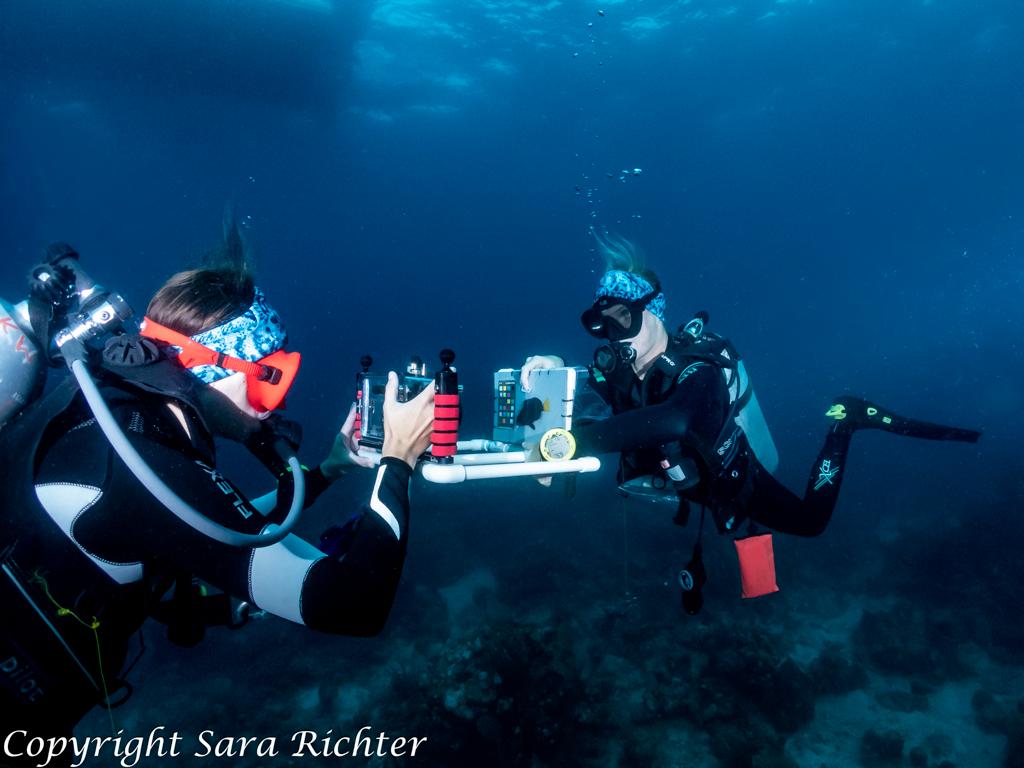 Floriane Coulmance, Melanie Heckwolf, taking standard photographs of a yellowtail hamlet in St John, US Virgin Island
The last trip, to Veracruz in Mexico, was slightly more challenging. I was pressed to wrap up the project, facing time and budget constraints, and some of the team got sick. Luckily, we were joined by Omar Dominguez-Dominguez, professor at the Universidad Michoacana de San Nicolás Hidalgo (UMSNH) and his student Karim Awhida. They helped us to catch fish and take pictures, and provided extra aid in logistics and negotiating with the dive shop. In the end, we were able to photograph 60 hamlets which all consisted of the two most prominent species of the area.
I am very happy to say that I led to success the first ever fellowship of this type. This scientific journey was super enriching, seeing reef ecosystems and the fish I study first-hand, has really changed the perspective I had before from only working behind a computer. Not only have I learnt a lot about marine environments and fish communities but I was also able to connect and include a diverse range of people (from fishermen, to photographers, to researchers) in my project throughout the journey, which I think is essential for scientific research. Along the way, I had the full support of Ross Robertson and Oscar Puebla, thanks to whom I was able to connect with many scientists, divers and fish enthusiast around the world.
References:
Coulmance, F, Akkaynak, D, Le Poul, Y, Höppner, MP, McMillan, WO, Puebla, O. 2023. Phenotypic and genomic dissection of colour pattern variation in a reef fish radiation. Molecular Ecology. https://doi.org/10.1111/mec.17047
Puebla, O., Coulmance, F., Estapé, C. J., Estapé, A. M. and Robertson, D. R. (2022). A review of 263 years of 1123 taxonomic research on Hypoplectrus (Perciformes: Serranidae), with a redescription of Hypoplectrus affinis (Poey, 1861). Zootaxa 5093, 101–141. 10.11646/zootaxa.5093.2.1