02/12/2021 | The long-term Sino-German collaboration projects (LANCET-ECOLOC-TICAS) led by Dr. Tim Jennerjahn at ZMT have been chosen as an 'Ocean Observing Case Study' by the Partnership for Observation of the Global Ocean (POGO) and published in the 'Coastal Water Quality' theme.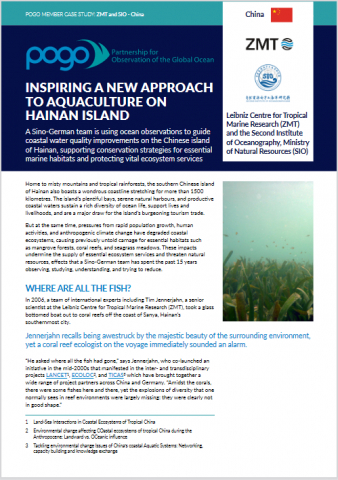 The 'Ocean Observing Case Studies' project was initiated by POGO to demonstrate the various socio-economic benefits of ocean observing in different parts of the world through the use of real examples. The long-term collaborative projects on the Chinese island of Hainan were selected to demonstrate how to support conservation strategies for essential marine habitats and protect vital ecosystem services by using long-running ocean observations.
The publication, which is entitled 'Inspiring a new approach to aquaculture on Hainan Island' summarises the efforts and outcomes of the past 15 years by the Sino-German team of observing, studying, understanding, and trying to reduce the impacts of human activities and climate change on coastal ecosystems in Hainan. These extensive observations, taken over a long period, have delivered datasets that enable researchers to better understand the root causes of environmental degradation. It also demonstrated the importance of these long-term observations for determining seagrass survival thresholds under eutrophication. Finally, the case study also emphasises the importance of linking science and society as intensively done in the TICAS project in recent years.
Please find the full story here: https://pogo-ocean.org/wp-content/uploads/2021/11/POGO-Case-Study-Hainan-091121.pdf
More information can be found on the project website: https://ecoloc.leibniz-zmt.de/