Tropical coasts are subject to pronounced transformations in their morphological structure, ecological frameworks and societal dynamics. Drivers such as climate change, overexploitation of resources, population increase and urbanisation will alter the social-ecological and socio-economic structures deeply and pose challenges to future generations with regard to a sustainable management of coastal ecosystem services. Changes in legal frameworks such as the United Nations Convention on the Law of the Sea (UNCLOS) but also the consequences of decolonisation over the past decades continue to challenge coastal countries in the tropics.
ZMT addresses these areas of tension in its work to provide a scientific basis for the protection and sustainable use of tropical coastal ecosystems by conducting research, capacity development, and consulting activities in close cooperation with international partners in the tropics. This is reflected in the architecture of our projects, with their basis laid down in the "Bremen Criteria" formulated in the early years of the institute.
The challenges caused by the various drivers require a holistic view that encompasses the social-ecological systems in their complexity. Inter- and transdisciplinary approaches for the development of responses at different levels – locally, nationally, regionally, and globally – have proven to be pertinent. ZMT strives for this integrated view in its scientific programme, by equipping its disciplinarily diverse scientific team with necessary expertise, and by assuring framework conditions conducive for inter- and transdisciplinary research in and with tropical partner countries.


ZMT addresses urgent key topics in the four scientific plus one supporting programme areas (PA):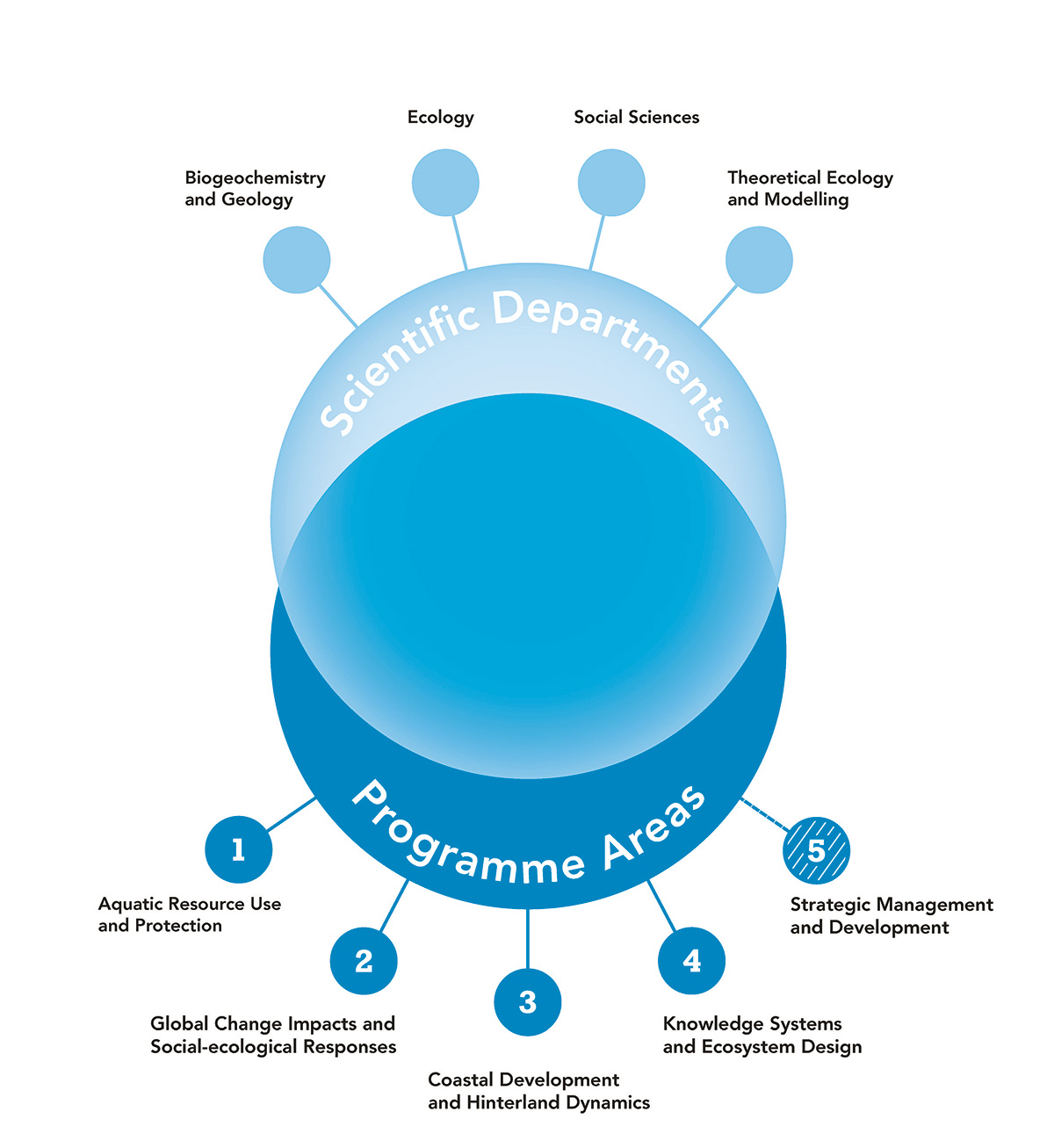 Interplay between scientific departments and programme areas
The scientific programme areas provide a multi-perspective view on pressing questions. A holistic approach is needed to address these questions. This is assured through the dialogic interplay of the range of disciplines represented in the four scientific departments of ZMT: Ecology, Biogeochemistry and Geology, Social Sciences, and Theoretical Ecology and Modelling. The departments are prepared and continuously developed to assure the grounding of research conducted in the four scientific programme areas in state-of-the-art methodological, conceptual and empirical discussions within, between and beyond the different disciplines. Special attention is paid to the implementation of joint and interdisciplinary language, research projects, models, and settings that foster the integration of our diverse disciplines. All activities and projects will contribute to the empirically-based development of answers, and potential solutions for tackling current and future challenges.

Development process of the five Programme Areas
The scientific programme areas are the targeted sharpening of the research profile to address specific problem fields of topical relevance to tropical coasts. The process of redefining the research strategy was implemented by creating research focus areas (RFA) in 2017 addressing specific challenges. These focus areas were substantiated in the following years, and by a directed and purposeful continuous strategy process – including retreats, mini-retreats and workshops of the scientific workgroup and department leaders – led to the formulation of the four new targeted scientific programme areas and one supporting programme area.