11.06.2018 | A delegation from business, politics and science travelled to South Africa and Namibia from June 1 to 10, 2018. Almost 60 representatives from Bremen, Oldenburg and the Elbe-Weser region stopped off in Cape Town, Windhoek and Walvis Bay. The delegation was led by Harald Emigholz, President of the Bremen Chamber of Commerce - IHK for Bremen and Bremerhaven, and Mayor Dr. Carsten Sieling, President of the Senate of the Free Hanseatic City of Bremen. Dr. Nicholas Dittert, managing director of the Leibniz Centre for Tropical Marine Research (ZMT), and Dr. Nils Moosdorf, head of the work group Submarine Groundwater Discharge, also travelled with the delegation to the region, where ZMT has been conducting research with scientific partners since its founding in 1991.
This text is currently only available in German....

Handelskammer-Präses Harald Emigholz sagte: "Einer Reihe von Unternehmen ist es gelungen, neue Wirtschaftskontakte in Südafrika und Namibia zu knüpfen und bereits bestehende zu intensivieren. Wir haben einen umfassenden und authentischen Eindruck davon erhalten, was in diesen aufstrebenden Märkten möglich ist und wo ein Engagement der Wirtschaft neue Impulse für Entwicklung setzten kann. Gute und verlässliche Kontakte zwischen Unternehmen in Deutschland und Afrika sind eine wichtige Grundlage dafür."
Bürgermeister Dr. Carsten Sieling sagte: "In Südafrika und Namibia hat sich für uns in dieser Woche gezeigt, dass das Wort vom Chancen-Kontinent Afrika keine Phrase ist. Wir haben nicht nur viele wichtige politische Gespräche führen können, es ist vor allem auch deutlich geworden, dass das internationale Profil unserer beiden Städte und die langjährige Entwicklungszusammenarbeit die zentrale Basis für Vertrauen und Zukunftschancen sind. Hafenentwicklung, Wissenschaft, bremische Kompetenz in der Wasserwirtschaft, bei der Förderung von Existenzgründungen, beruflicher Bildung sowie ein vielfältiger Kulturaustausch haben konkrete Vereinbarungen möglich gemacht, die auch durch die Vielseitigkeit und Breite der Delegation getragen wurden."
Thomas Windgassen, Präsident der Industrie- und Handelskammer Stade für den Elbe-Weser-Raum, betonte: "Unser Interesse bei der Delegationsreise war es herauszufinden, wie sich unsere norddeutsche Wirtschaft ihr künftiges Engagement in Afrika vorstellt und wie sehr europäisches Denken in die Wirklichkeit des südlichen Afrikas passt. Wir haben wertvolle Anregungen durch unsere afrikanischen Partner erhalten. Nun wollen wir diese Erfahrungen auf die Metropolregion Nordwest übertragen."
Dr. Matthias Fonger, Hauptgeschäftsführer der Handelskammer, sagte: "Wir freuen uns, auch Kontakte mit der Handelskammer in Kapstadt aufgebaut zu haben. In einem Gespräch, an dem die Spitzen der Cape Chamber, der Handelskammer Bremen und der IHK Stade teilnahmen, konnten Bereiche für einen zukünftigen Erfahrungsaustausch festgelegt werden. Zentrales Thema ist die Vorbildfunktion der deutschen Berufsausbildung."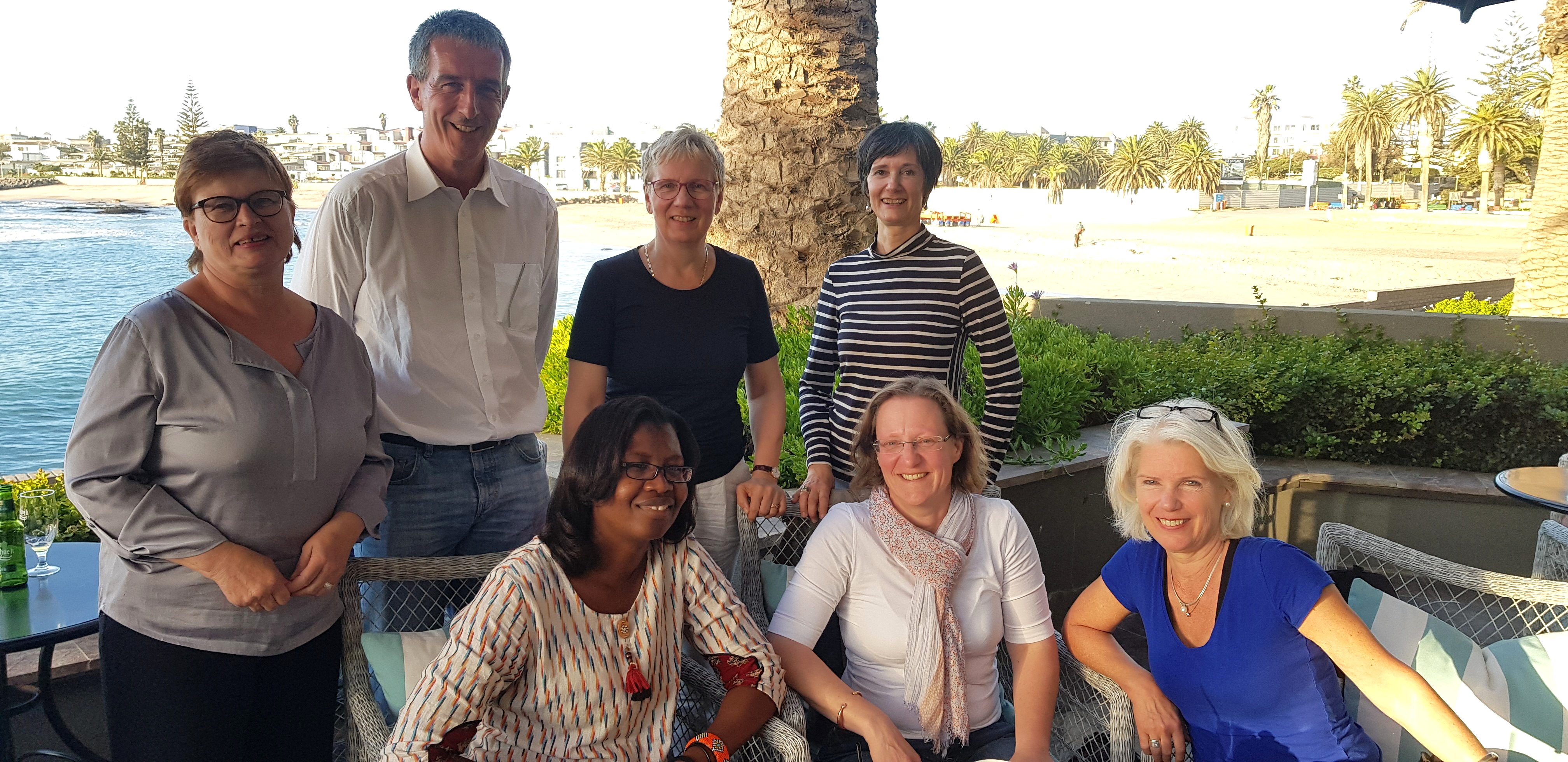 Station in Namibia (v.l.): Prof. Dr. rer. pol. Karin Luckey (Rektorin der Hochschule Bremen), Dr. Nicolas Dittert (kaufmännischer Direktor des ZMT), Prof. Dr. Eva Quante-Brandt (Senatorin für Wissenschaft, Gesundheit und Verbraucherschutz), Barbara Reinhold-Hurek (Leiterin der Arbeitsgruppe Microbe-Plant Interactions, Universität Bremen), Hilkka Ndjaula (Assistant Pro Vice Chancellor, University of Namibia), Dr. Annette Lang (Leiterin International Office, Universität Bremen), Petra Schierholz (Dezernat 1, Akademische Angelegenheiten, Universität Bremen)
Chancen im südlichen Afrika
In Südafrika informierte sich die Delegation über zukunftsorientierte Projekte und Vorhaben. Dazu gehörte in Kapstadt ein Besuch bei Green Cape, einer Einrichtung, die durch Zusammenarbeit von Unternehmen, Investoren, Universitäten und Regierungsstellen das Beschäftigungspotenzial bei grünen Technologien fördern soll. Ein Besuch im sogenannten "Launch Lab" in Stellenbosch zeigte beispielhaft, wie sich die Start-up Szene in der Kapregion organisiert.
In der Cape Chamber, der lokalen Handelskammer in Kapstadt, beteiligten sich die Unternehmen an einer Kooperationsbörse, in der in schneller zeitlicher Reihenfolge Gesprächskontakte zwischen den nordwestdeutschen Unternehmen und der lokalen Wirtschaft in der Kapregion organisiert wurden. Auch im namibischen Windhoek fand eine solche Kooperationsplattform statt.
Dr. Thorsten Haase, Geschäftsführer HEC GmbH / team neusta, sagte: ""Ich freue mich, dass ich mit Vertretern der größten namibischen Unternehmensgruppe Ohlthaver & List einen weiteren Erfahrungsaustausch vereinbaren konnte. Dabei wird es darum gehen, wie man Innovation mit Start-ups, deren Denke, agilen Vorgehensweisen und digitalen Kompetenzen in Unternehmen vorantreiben kann."
Wirtschaftsstaatsrat Ekkehart Siering ergänzte: "Die pragmatische Art und Motivation der jungen Start-ups zeigt, es muss nicht immer Chrom und Glanz sein, oftmals sind es die einfachen Lösungen, die jungen Unternehmern helfen. Mit unserer Starthaus-Initiative wollen wir genau dies tun."
Bei unterschiedlichen Veranstaltungen, unter anderem Empfängen der deutschen Botschafter in Südafrika und Namibia, gab es zahlreiche weitere Gespräche. Der deutsche Botschafter in Südafrika, Dr. Martin Schäfer, hat zugesagt, an einer Afrika-Veranstaltung der Handelskammer in Bremen teilzunehmen.
Dr. Nicolas Dittert, kaufmännischer Direktor des Leibniz-Zentrums für Marine Tropenforschung (ZMT), berichtet: "Seit über 25 Jahren arbeitet das ZMT in Südafrika und Namibia zu Themenkreisen der Fischerei, ihrer Biologie, ihrer Wirtschaft und ihrer Verwaltung. Es ist ein phantastisches Zeichen, wenn eine bremische Delegation die Bereiche Wissenschaft, Wirtschaft und Politik vereint. So konnten wir alle ein umfassendes Bild dieser Regionen erhalten, und ich konnte für das ZMT bestehende Kontakte vertiefen."
Interessant für die Bremer Unternehmen waren die Hafen- und Logistikinfrastrukturen in Wavis Bay, dem größten namibischen Hafen, der zu einer wichtigen Drehscheibe für Warenverkehre im südlichen Afrika entwickelt werden soll. Die Delegation besuchte außerdem Unternehmen in der Wirtschaftszone der Walvis Bay Corridor Group. Vielversprechend ist eine Kooperation mit der Hafengesellschaft Namport in Walvis Bay verlaufen, der angeboten wurde, in Bremen gratis ein Büro überlassen zu bekommen, um eine Zusammenarbeit aufzubauen. In Kapstadt informierte Transnet, die südafrikanische Hafenorganisation, über die weiteren Ausbaupläne des dortigen Hafens.
Dr. Karsten Galipp, Director International Projects der Inros Lackner AG, sagte: "Mir ging es darum, neue Anknüpfungspunkte für die Begleitung von Infrastrukturprojekten zu finden. Die Vorhaben Namibias zur Entwicklung seiner Transportkorridore sind für uns sehr vielversprechend."
Das Programm der politischen Delegation
Vom Bremer Senat begleiteten neben Bürgermeister Dr. Carsten Sieling die Finanzsenatorin und Bürgermeisterin Karoline Linnert, Wissenschaftssenatorin Professorin Dr. Eva Quante-Brandt sowie Wirtschaftsstaatsrat Ekkehart Siering die Delegationsreise.
Die politische Delegation aus Bremen besuchte zusätzlich Durban. Die Stadt verfügt über den größten Hafen Südafrikas. Seit Begründung der Städtepartnerschaft zwischen Bremen und Durban im September 2011 haben sich zahlreiche Kooperationen weiterentwickelt, eine Klimapartnerschaft ist entstanden, die mittlerweile ein sehr wichtigstes Kooperationsfeld der Städtepartnerschaft ist.
Senatorin Linnert beschrieb die Eindrücke der Delegationsreise ins südliche Afrika: "Wassermangel als Folge des Klimawandels ist in Südafrika und Namibia von ganz besonderer Bedeutung. Dabei können wir aus Bremen gute Unterstützung anbieten, ihn zu bekämpfen. Das wurde sowohl beim Besuch der Grootbos Foundation deutlich, die Umweltschutz und nachhaltige Entwicklungshilfe verbinden, wie auch durch die Arbeit der Bremer Organisation BORDA, die in der Wasseraufbereitung in Südafrika erfolgreich unterwegs ist. Begeistert hat mich auch das Projekt Ocean-Champs, das in Kooperation mit der GIZ entwickelt wurde: Dabei werden junge Menschen in Sachen Meeresschutz, besonders in Bezug auf die Vermüllung der Meere mit Plastik, geschult und sollen ihr Wissen an andere weitergeben."
Zu den Ergebnissen der Delegation sagte Senatorin Quante-Brandt: "Es ist hervorragend, dass wir nun eine gemeine Vereinbarung zur Wissenschaftskooperation haben. So können wir den Austausch von Wissenschaftlern und Studierenden ebenso wie den Wissenstransfer zwischen den Hochschulen und außeruniversitären Forschungseinrichtungen in Bremen und Namibia weiter verstärken. Das betrifft die Themengebiete Gesundheit, Ökonomie, Bildung und berufliche Bildung sowie den Bereich der Meeresforschung und der Meerestechnik."
Wirtschaftsdelegation aus dem Nordwesten
Die Zahl von 60 Teilnehmenden an der Delegation unterstreicht das große Interesse der nordwestdeutschen Wirtschaft an einem stärkeren Engagement im südlichen Afrika. Unter ihnen waren Ingo Kramer, Präsident des Bundesverbandes Deutscher Arbeitgeber, sowie Thomas Windgassen, Präsident der IHK Stade für den Elbe-Weser-Raum, Dr. Matthias Fonger, Hauptgeschäftsführer der Handelskammer Bremen, und Maike Bielfeldt, Hauptgeschäftsführerin der IHK Stade. Vertreten waren verschiedene Wirtschaftsbranchen: Logistik, Hafenwirtschaft und Schifffahrt; Anlagenbau, Elektronik und IT; Handel, Baugewerbe und Infrastruktur; Energiewirtschaft und Dienstleistungsgewerbe; Gesundheits- und Lebensmittelwirtschaft.
Seit 2007 bieten die Handelskammer Bremen sowie die Industrie- und Handelskammern (IHK), Oldenburg und Stade gemeinsame Delegationsreisen an. Sie sollen dazu beitragen, Kontakte in aufstrebenden Märkten im Ausland zu pflegen und aufzubauen.