17/02/2022 | The recently founded Global Fund for Coral Reefs (GFCR) has established a Scientific and Technical Advisory Group for Monitoring and Evaluation (STAG). A scientist from the Leibniz Centre for Tropical Marine Research was also appointed to this group: Marine biologist Dr. Annette Breckwoldt, who conducts research on reef passages in coral reefs of the Pacific and their ecological and social significance.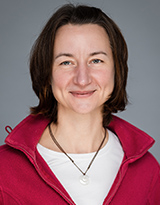 Following a selection process for expert identification managed by the United Nations Environment Programme (UNEP), the STAG is comprised of independent international experts in diverse fields related to coral reef conservation, management, restoration, socio-economics of coral reef adjacent communities as well as conservation finance and sustainable business. The group will provide recommendations and advice to the GFCR Secretariat and key partners with a focus on monitoring and evaluation.
The GFCR was launched in September 2020 by a coalition of private foundations, Member States, UN agencies and private sector investors with the ambition to mobilise USD $625 million for coral reef conservation. It is the first and only global blended finance instrument dedicated to coral reefs. The initiative promotes a 'protect-transform-restore-recover' approach concentrated on coral reef ecosystems with the greatest chance of surviving climate change.
The GFCR supports business models that can sustainably fund key coral reef conservation and development objectives through two ways. One is grants for technical assistance, capacity development, monitoring, and evaluation; the other is low-risk investments to maximize the impact of projects spurred by the grants.
More information: https://globalfundcoralreefs.org/news/stag/