09/09/2019 | Humans have always been attracted to the magic of the sea and its vast biodiversity. Today, our oceans are more threatened than ever before. The worldwide pollution through plastic waste and industrial fishing threaten the existence of countless species. Global warming and the resulting climate change are causing ever greater damage to the marine ecosystem.
York Hovest, successful photographer, adventurer and author, has set out to fight this development. In his new book, he introduces people who are committed to saving the oceans. During the last 2 ½ years he accompanied a number of different "heroes of the seas" to document approaches for solutions and travelled with scientists, activists and visionaries.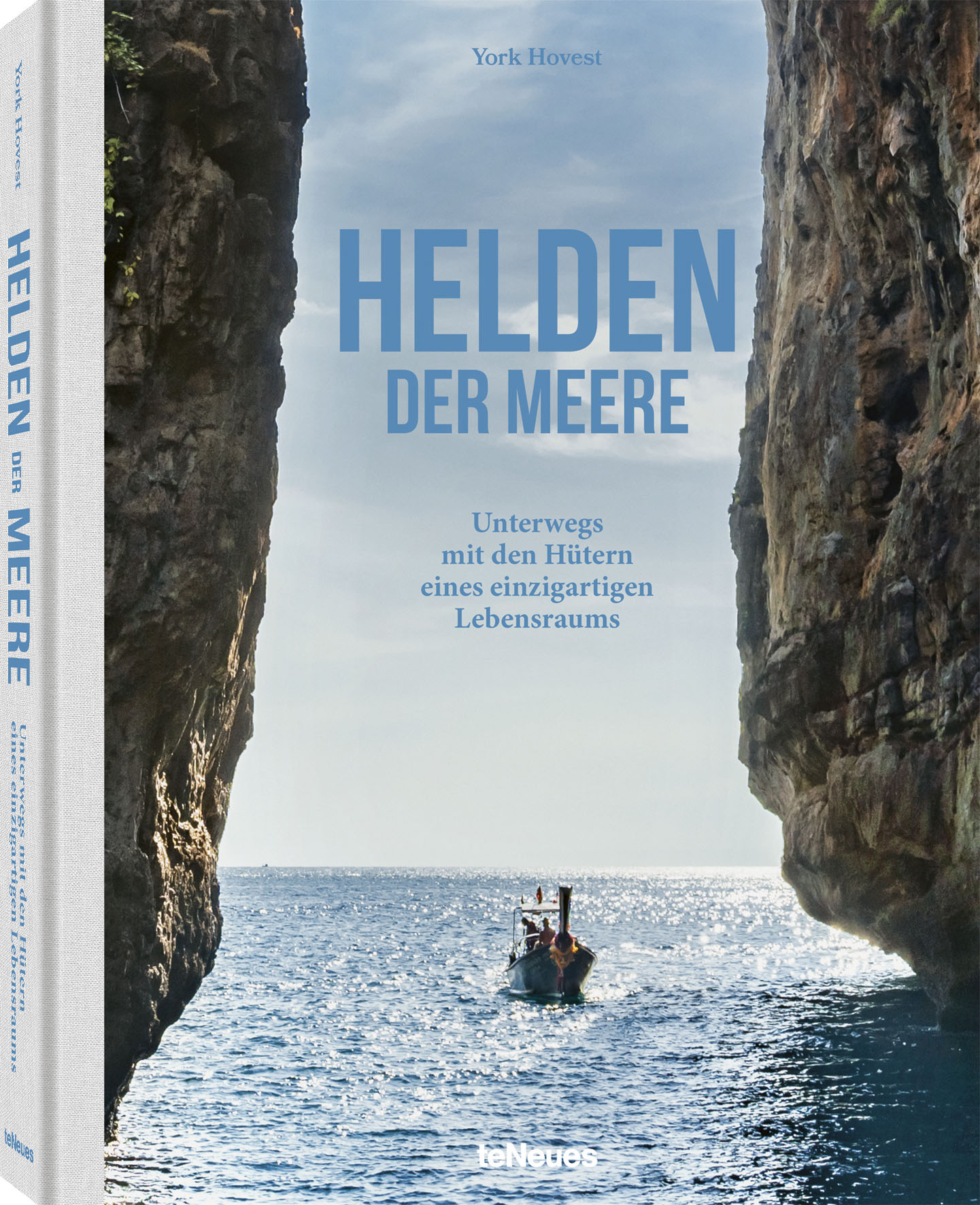 Cover of the book "Helden der Meere" (Heroes of the Seas) | © Heroes of the Seas by York Hovest, published by teNeues, € 50, www.teneues.com, www.heroesofthesea.com

York Hovest also went to Zanzibar with two researchers from the Leibniz Centre for Tropical Marine Research (ZMT). The island in Tanzania is a place of longing for many travellers. But it is also its popularity among tourists that is now causing problems for the region's coastal ecosystems. A wide range of colourful shells from nearby coral reefs are sold in countless shops near the beach and in hotels. For the locals, this business is now more profitable than traditional fishing. As a result, the mollusc populations off the Zanzibar coasts are greatly reduced and can no longer perform their functions in the marine ecosystem. Geologist Gita Narayan and biologist Theresa Schwenke from ZMT investigated local mollusc stocks and their importance for the nutrition of the islanders and as a source of income.
On Zanzibar, York Hovest accompanied the two researchers with his camera when they interviewed fishers and shell traders, representatives of non-profit organisations and educational institutions, tourists and employees of diving schools as well as local authorities. The aim of the field research was to find potential measures for the protection of coastal ecosystems from all the information collected and to share the relevant knowledge with locals and travellers in order to raise ecological awareness and strengthen the sustainable use of resources.
York Hovest's numerous trips to all parts of the world have resulted in a captivating photo book. "It is a unique portrait of our oceans with all their beauty, fascination and power. But also their immense problems, which we urgently have to face," says York Hovest.
Born in 1978 in Wesel/NRW, York Hovest was already an internationally successful fashion photographer before he travelled the world as an investigative author and adventurer in search of inspiring stories and fates and captured them in impressive pictures.
His books "100 Days Tibet" and "100 Days Amazonia", have already attracted much attention. With his latest book "Heroes of the Seas", he now presents a new impressive piece of work, which also includes a preface by the Dalai Lama.
The photo book "Heroes of the Seas – On the Road with the Guardians of a Unique Habitat" by York Hovest has now been published by teNeues, www.teneues.com
With a preface by the Dalai Lama.
Heroes of the Seas will also be made into a documentary film
York Hovest will cross the Atlantic in a custom-built rowing boat – starting December 1, 2019, www.heroesofthesea.com
The author is a sought-after keynote speaker and regularly gives talk accompanied by multimedia shows
Parts of the proceeds of this book go to the marine conservation organisation Sea Shepherd Global, www.sea-shepherd.de

Contact for review copies and photos:
Andrea Rehn | teNeues Media, Press Department
Tel.: +49 (0) 2152 916-202 | Fax: +49 (0) 2152 916-222
E-Mail: This email address is being protected from spambots. You need JavaScript enabled to view it. | www.teneues.com