28.02.18 | Until May 25, 2018 the interactive special exhibition "Oceans in Transition" at the Klimahaus Bremerhaven provides unique insights into the development of the world's oceans and the reciprocal influence of man and sea. On 400 square metres, visitors can learn how the oceans have evolved and changed, learn a lot about life and survival on the coasts and discover research in the fascinating landscapes of the deep sea.
ZMT is also present showing a 2-D version of its virtual coral reef, which draws attention to reef dwellers but also to their endangerment, in a room especially designed for this purpose by the Klimahaus. The exhibition also uses images and videos to demonstrate the impact of climate change on the oceans and explains how to protect the seas in a sustainable way.
In addition to the show, a panel discussion was held on at the end of February with a review of the "Seas and Oceans" Year of Science of the Federal Ministry of Education and Research (BMBF). Five experts from renowned research institutions, including Dr. Tim Rixen from ZMT, discussed the impact of climate change on the oceans.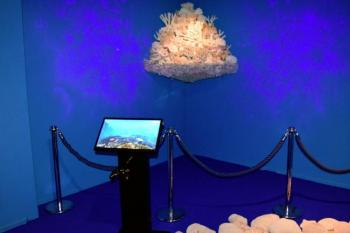 ZMT´s virtual reef at the Klimahaus in Bremerhaven | Photo: ZMT