03/11/2022 | The call for applications is now open for the training course "Co-Design in the Ocean Decade", which is being produced and delivered by the Intergovernmental Oceanographic Commission of UNESCO (IOC) and the Leibniz Centre for Tropical Marine Research (ZMT). It is a contribution to the United Nations Decade of Ocean Science and Sustainable Development.
This training course will support the ocean science community around the world to properly co-design a project that can lead to co-production and co-delivery of knowledge, and ultimately develop a project that can be submitted for endorsement under a future Call for Decade Actions. The application deadline is November 15, 2022.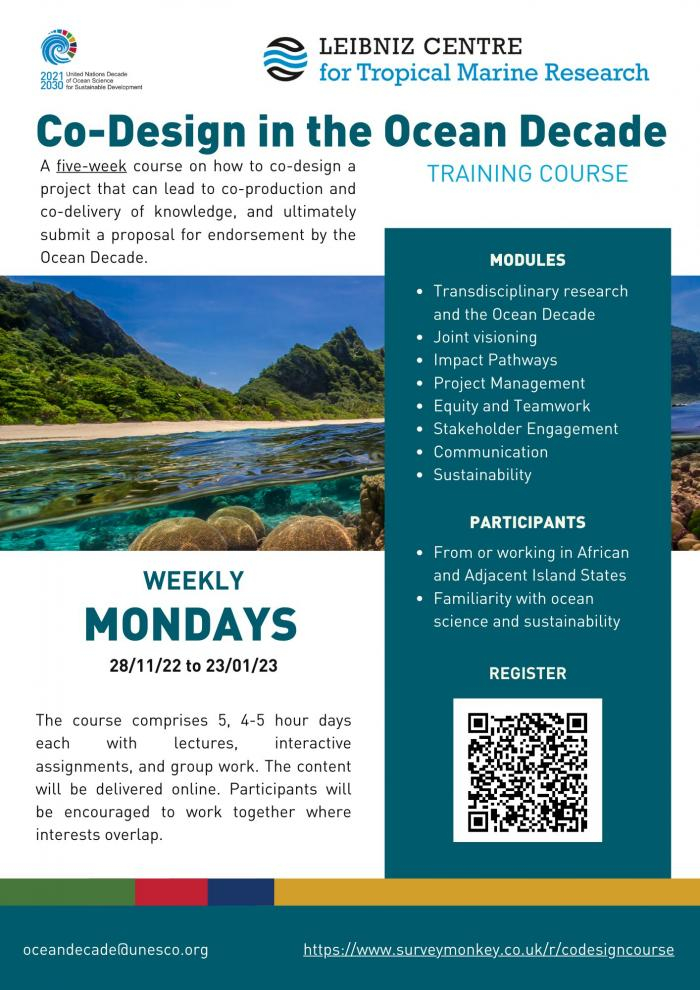 Course Structure
This course will be conducted online every Monday from November 2022 to January 2023:
28th November 2022
5th December 2022
12th December 2022
9th January 2023
16th January 2023
23rd January 2023
Each day will comprise 4 to 5 hours of lectures, group work, interactive assignments, and quizzes. Key success factors for co-design will be covered in this training course. More concretely, participants will:
Gain skills needed in order to co-design a (transdisciplinary) research project (strategic planning, communication and team building);
Learn about principles, processes, and application of co-design;
Benefit from peer learning and the potential to meet other like-minded people and develop a decade of action together;
Learn about transdisciplinary theory and practice, stakeholder engagement, impact planning, communication with peers and stakeholders in intercultural settings, research ethics, and fostering fair partnerships/teams;
Work on assignments that produce concrete outputs (e.g. a project management plan, visualization of impact pathway, a stakeholder map, a project pitch) that are useful for the planned Decade Actions.
Apply now
Participation in the course is free of charge, but places are limited. There is a capacity for up to 30 participants. As this pilot training course will be conducted with partners in Africa, selected participants will need to be based in an African or Adjacent Island State.
Application link: https://www.surveymonkey.co.uk/r/codesigncourse
Please outline why you want to learn about co-designing in a one-page letter of motivation. If applicable, please submit a project idea that you are working on or would like to develop as a potential proposal that can be submitted for a future Call for Decade Actions. The course is not restricted to scientists, all individuals that are interested in searching for solutions for co-designing a research project are welcome, but priorities will be given to participants who have an understanding of ocean science and sustainability.
Please upload your letter of motivation together with a short CV to the registration platform by 15 November 2022.