12/10/2022 | Dr. Paul K. Botwe, a Senior Lecturer from the School of Public Health at the University of Ghana in Legon (Ghana), has been awarded a sought-after fellowship for early career scientists from the Alexander von Humboldt Foundation (AvH) which enables him to spend two years at the Leibniz Centre for Tropical Marine Research (ZMT).
Paul will focus his research work on Agbogbloshie, a suburb in Ghana's capital Accra that over the last 20 years has become the biggest dumping ground for electronic waste (e-waste) worldwide. He will study the impact of unregulated e-waste management strategies on the environment – particularly, aquatic ecosystems – and how they ultimately impact on human health outcomes in Agbogbloshie.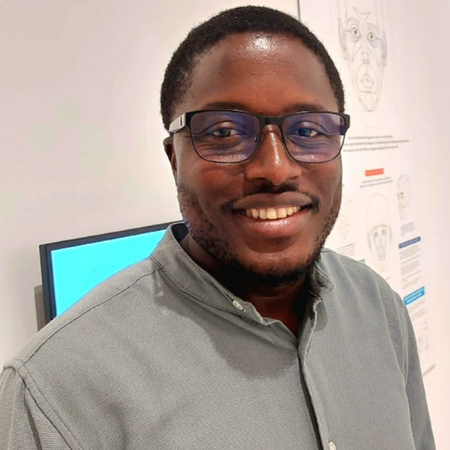 Dr. Paul K. Botwe
Each year, more than 350,000 tons of e-waste are shipped illegally from the European Union to developing countries, especially Ghana, where large amounts of it end up in landfills in Agbogbloshie.
About 40,000 people live in Agbogbloshie. They engage in unregulated recycling of e-waste using leaching, open burning, and dismantling to recover valuable metals such as copper and aluminium to make a living. Toxic substances including organic pollutants and heavy metals are thus released into the environment. Yet the actual state of pollution in soil, fresh water and the coastal waters, and how these pollutants get magnified along the food chain, and their impact on human health are unknown.
In his research, Paul will focus on assessing e-waste pollution in the Agbogbloshie area, follow its pathways along the food chain and inform management decisions on best practices to improve the environmental situation. Specifically, he will quantify the past, current and future distribution of pollutants (e.g., heavy metals) and pathways in the area around the site, map out aquatic biodiversity, investigate heavy metal concentrations in water (surface and groundwater), sediments and protein sources (e.g. fish, macroinvertebrates) and assess potential human health risks associated with such contaminants.
At ZMT he works together with Professor Hildegard Westphal (WG Geoecology and Carbonate Sedimentology) and Professor Nils Moosdorf (WG Submarine Groundwater Discharge).
About Dr. Paul K. Botwe
Paul K. Botwe earned his doctorate from the University of Tasmania, Australia and conducted his postdoctoral research. He was a Visiting Scientist and a DFG Fellow at ZMT. During his PhD, postdoctoral fellowships and career as senior scientist, he has undertaken research in Africa, Australasia, Europe and North America. Furthermore, he's provided consultancy services for a number of sectors including energy, mining and agriculture sectors.
Through the Humboldt Research Fellowships, the Alexander von Humboldt Foundation sponsors researchers with above-average qualifications from across the globe. Fellows also benefit from individual support from the Humboldt Foundation and its diverse sponsorship portfolio.