13.07.2018 | The Leibniz Centre for Tropical Marine Research (ZMT) and Bremen-based Edition Falkenberg have just published their book on Bremen's research along tropical coasts in an English-language version. Titled "Scientific Partnership for a Better Future" the book, edited by Gotthilf and Irmtaut Hempel and Anna-Katharina Hornidge comprises more than thirty essays.
We dream about secluded palm-lined beaches and vibrant coral reefs. Bremen's tropical researchers take a closer look. In more than thirty illustrated essays they vividly describe regional and social processes in coral reefs, seagrass meadows or mangrove forests and analyse the threats through climate change, sea-level rise, overexploitation or urbanization as a result of population pressure and social disparity. These processes are also affecting every-day life in Europe, Germany and Bremen through global commodity, finance, and migration flows.
The book is about using natural resources, sustainably and protecting tropical habitats. With its broad range of marine scientific institutes, the Land Bremen has become Germany's centre for tropical coastal research. This publication presents these institutions to a general public and gives an insight into marine ecosystems which are not only used but also heavily shaped by humankind.
The contributions have been divided into two main themes: dealing with the ecology on the one hand and with the interrelation between humans and resources in tropical coastal zones on the other. These parts are framed by articles about the historical development of tropical marine research in Bremen and the measures to further develop scientific expertise and capacities in tropical countries.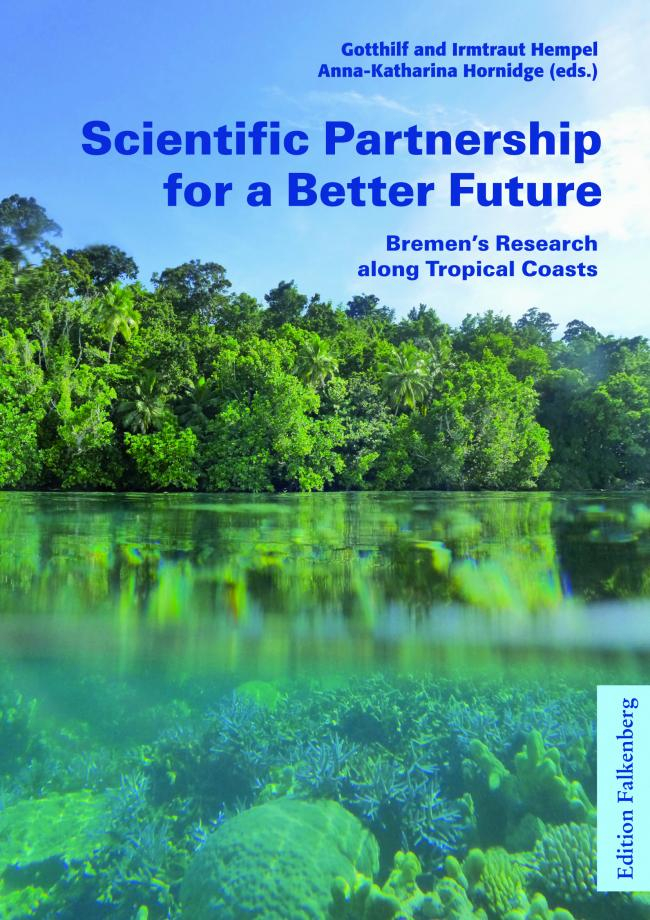 Hempel, Gotthilf; Hempel, Irmtraut; Hornidge, Anna-Katharina, Hrsg. (2018) "Scientifc Partnership for a Better Future" l 1st Edition, Edition Falkenberg, Bremen 2018 l ISBN 978-3-95494-151-3, 12,90 Euro
About the Editors
Dr. Gotthilf Hempel is Professor emeritus in marine science and fishery biology at the University of Kiel. He is the founding director of the Alfred-Wegener-Institute Helmholtz-Centre for Polar and Marine research (AWI) in Bremerhaven and of the Leibniz Centre for Tropical Marine Research (ZMT) in Bremen.
Dr. Irmtraut Hempel was a plankton researcher at the Institute for Polar Ecology in Kiel and is a co-editor of marine and polar scientific journals and books.
Dr. Anna-Katharina Hornidge is Professor for Sozial Sciences in the Marine Tropics at the University of Bremen and head of the department for social sciences at the Leibniz Centre for Tropical Marine Research (ZMT) in Bremen.