05/03/2020 | On 3 March, the Ger­man Mar­ine Re­search Al­li­ance (DAM), which counts the Leibniz Centre for Tropical Marine Research (ZMT) amongst its members, in­tro­duced it­self to some 200 guests at the FUTURIUM – House of Futures outlining its tasks and ob­ject­ives. As per the DAM mis­sion state­ment, these focus on on pro­mot­ing the sus­tain­able man­age­ment of coasts, seas and oceans through re­search, data man­age­ment and di­git­al­isa­tion, in­fra­struc­ture and know­ledge trans­fer.
Fol­low­ing in­tro­duct­ory words by Mi­chael Meister, par­lia­ment­ary state sec­ret­ary at the Fed­eral Min­istry of Edu­ca­tion and Re­search, and Björn Thümler, the Min­is­ter for Sci­ence and Cul­ture of the State of Lower Sax­ony, the Deputy Chair­man of the DAM, Mi­chael Schulz, out­lined the goals and ob­ject­ives of the Al­li­ance. He em­phas­ized the im­port­ance of the stake­holder forum, which the DAM is set­ting up and which will be its "ac­tual topic gen­er­ator". This will in­clude poli­cy­makers as well as rep­res­ent­at­ives of busi­ness and civil so­ci­ety.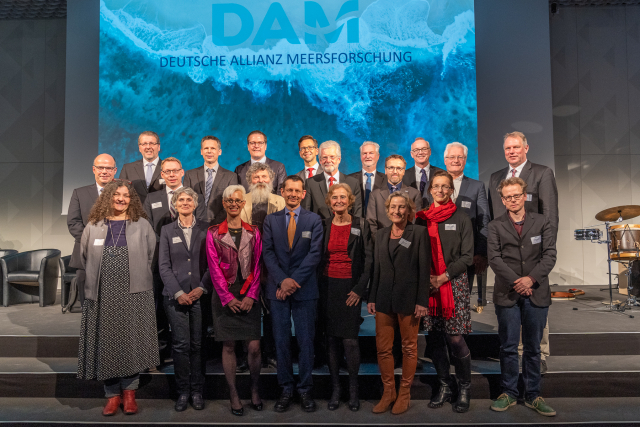 Photo: DAM/Dirk Enters
Stake­hold­ers and mar­ine sci­ent­ists then took part in a panel dis­cus­sion en­titled "A Sea of Sus­tain­ab­il­ity – From Know­ledge to Ac­tion", which was mod­er­ated by met­eor­o­lo­gist and sci­ence journ­al­ist Karsten Schwanke. Norbert Brack­mann, the Fed­eral Gov­ern­ment Co­ordin­ator for the Mari­time In­dustry, Kim Detloff, Head of Mar­ine Pro­tec­tion at Naturs­chutzbund
Deutsch­land e.V., Nicole Du­bilier, Dir­ector of the Max Planck In­sti­tute for Mar­ine Mi­cro­bi­o­logy, Nele Matz-Lück, spokes­wo­man for the Fu­ture Ocean Net­work at Kiel Uni­versity, and Ul­rich Schna­bel, sci­ence ed­itor of DIE ZEIT, dis­cussed trans­dis­cip­lin­ary re­search and de­scribed their ex­pect­a­tions to­wards the DAM.
The mu­si­cians Amoy Ri­bas, Tal Ar­diti and Tino De­rado took the guests of the in­aug­ural event on a mu­sical jour­ney. First they went down­river ("des­cendo o rio") to the sea, then to the "Krumme Lanke" – a lake that Ber­liners are very fa­mil­iar with. This was fol­lowed by a re­cep­tion at which guests had a chance to ex­change ideas and to net­work un­til late in the even­ing.