28.09.2018 | On 27 June 2018, the Leibniz Centre for Tropical Marine Research (ZMT) was awarded the renowned German "audit berufundfamilie" certificate for its family-conscious personnel policy. Dr. Donata Monien, Women's Representative of ZMT, accepted the certificate from John-Philip Hammersen, Managing Director of the non-profit Hertie Foundation, and Oliver Schmitz, Managing Director of berufundfamilie Service GmbH. A total of 300 employers received awards in Berlin, including 153 companies, 106 institutions and 41 universities.
This text is currently only available in German….
Das ZMT zählt zu 46 Arbeitgebern, die das Verfahren zum audit berufundfamilie zum ersten Mal erfolgreich durchlaufen haben. Das Managementinstrument, das von der berufundfamilie Service GmbH angeboten wird, sorgt dafür, dass eine familien- und lebensphasenbewusste Personalpolitik nachhaltig gesteuert und umgesetzt wird.
"Als Frauenbeauftragte des ZMT und Mutter zweier Kindern setze ich mich stark für die Vereinbarkeit von Familie und Beruf ein", erklärt Dr. Donata Monien, Projektleiterin audit berufundfamilie. "Ich freue mich daher sehr, dass wir gemeinsam mit meinen Kolleginnen und Kollegen und der Geschäftsleitung des ZMT bereits viele familienbewusste Maßnahmen verwirklichen konnten, die unsere Zertifizierung im audit berufundfamilie ermöglicht haben. Dazu zählen beispielweise unser neues Eltern-Kind-Zimmer, die Beratung hinsichtlich Elternzeit und die Personalentwicklung durch Mentoring."
"Unser Erfolg im audit berufundfamilie zeigt, dass wir als familienfreundliches Institut mit unseren bisherigen Konzepten richtig liegen. In Zukunft planen wir, in unserer Personalpolitik weitere Vereinbarkeitsthemen umzusetzen", so die ZMT-Geschäftsführer Prof. Dr. Hildegard Westphal und Dr. Nicolas Dittert.
Mehr als 200 Beschäftigte können am ZMT von familienbewussten Maßnahmen profitieren. Das Angebot umfasst aktuell beispielsweise eine sehr weitreichende Flexibilität bei der Gestaltung der Arbeitszeit (Vertrauensarbeitszeit). Das ZMT belegt für seine Beschäftigten Kitaplätze und bietet mit dem Eltern-Kind-Zimmer Familien die Möglichkeit, Kinder zur Arbeit mitzubringen, sollte es mit der Betreuung mal eng werden. Bis zur Re-Auditierung in drei Jahren plant das Institut weitere Maßnahmen einzuführen, wie beispielsweise Transparenz über die Rolle und Aufgaben von Führungskräften bei der Unterstützung zur Vereinbarkeit von Beruf und Familie in den verschiedenen Teamebenen und die Entwicklung von Ansätzen zur Vereinbarkeit der wissenschaftliche Karriere mit Familienaufgaben.
For more information please go to our pages on Work-life Balance.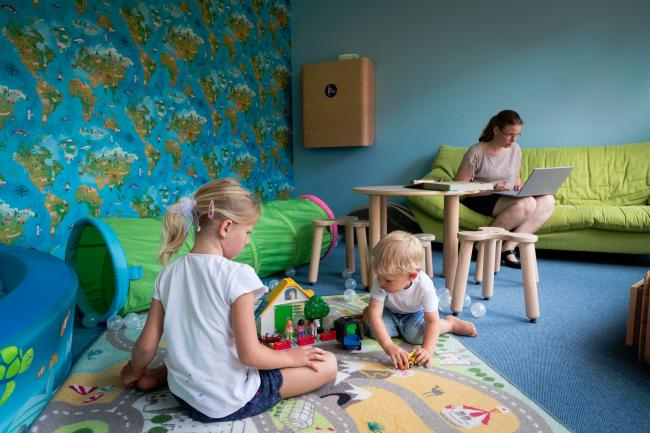 ZMT Women's Representative, Dr. Donata Monien, with her kids in the room for parents and children at ZMT. | Photo: Jan Meier, ZMT
Über das audit berufundfamilie und das audit familienbewusste hochschule
Einsetzbar in allen Branchen und unterschiedlichen Betriebsgrößen, erfasst das audit den Status quo der bereits angebotenen familien- und lebensphasenbewussten Maßnahmen, entwickelt systematisch das betriebsindividuelle Potenzial und sorgt mit verbindlichen Zielvereinbarungen dafür, dass Familienbewusstsein in der Organisationskultur verankert wird. Nach erfolgreichem Abschluss dieses Prozesses erteilt ein unabhängiges, prominent mit Vertretern aus Wirtschaft, Wissenschaft, Politik und Verbänden besetztes Kuratorium das Zertifikat zum audit. Die praktische Umsetzung wird von der berufundfamilie Service GmbH jährlich überprüft. Nach drei Jahren können im Rahmen einer Re-Auditierung weiterführende personalpolitische Ziele vereinbart werden. Nur bei erfolgreicher Re-Auditierung darf der Arbeitgeber das Zertifikat weiterführen. Seit der Einführung des audit im Jahr 1998 wurden über 1.700 Arbeitgeber mit dem Zertifikat ausgezeichnet. Aktuell sind insgesamt 971 Arbeitgeber nach dem audit berufundfamilie bzw. audit familiengerechte hochschule zertifiziert, darunter 475 Unternehmen, 387 Institutionen und 109 Hochschulen. Davon können über 1,89 Millionen Beschäftigte und mehr als 1,4 Millionen Studierende profitieren. www.berufundfamilie.de
Über die berufundfamilie Service GmbH
Die berufundfamilie Service GmbH ist Dienstleister und der Kompetenzträger im Themengebiet Vereinbarkeit von Beruf, Familie und Privatleben. Sie begleitet erfolgreich Unternehmen, Institutionen und Hochschulen bei der Umsetzung einer nachhaltigen familien- und lebensphasenbewussten Personalpolitik und der Gestaltung familiengerechter Forschungs- und Studienbedingungen. Ihr zentrales Angebot ist das audit berufundfamilie/ audit familiengerechte hochschule, das von der Gemeinnützigen Hertie-Stiftung initiiert wurde. Das audit steht unter der Schirmherrschaft von Bundesfamilienministerin Dr. Franziska Giffey. www.berufundfamilie.de