14/10/2019 | On the 30th of September and the 1st of October 2019, 55 international scientists met in Paris, France for the Kick-Off Conference of the Make Our Planet Great Again (MOPGA) research initiative. This Franco-German research initiative was conceived for the fight against climate change by the French President Emmanuel Macron to bring top scientists to France and Germany with research projects sponsored by the French Ministry of Education and by the German Federal Ministry of Education and Research. With this initiative, the scientists are currently conducting research in the fields of climate change, energy transition, and earth system science. As one of the 13 funded projects in Germany, Junior Research Group leader Dr. Henry Wu of ZMT attended this conference as a MOPGA Laureate with his Project OASIS.
The conference was opened by speeches from the Federal Research Minister Anja Karliczek at the invitation of her French counterpart, Frédérique Vidal, noting the importance of research so that "our grandchildren can expect us to achieve climate neutrality by the year 2050". Keynote speakers at the conference also included Valérie Masson-Delmotte, the French climate scientists and lead-coordinating author of the Intergovernmental Panel on Climate Change (IPCC) Working Group One (WGI) activities for the Sixth Assessment Report (AR6), who warned the audience of the urgency for action that our planet requires.
At the Kick-Off Conference, the MOPGA Laureates signed a joint statement calling for the need of a stronger role for research in the fight against global climate change. "I am extremely honoured to have this opportunity and grateful to be a part of this research initiative that will significantly increase our knowledge on the changing climate," said Dr. Wu. Dr. Wu is currently leading his team of researchers at the ZMT investigating the rate of CO2 uptake in the global oceans that is causing both warming and the acidification of the seawater with striking impacts on tropical coral reefs.
More about...
Project OASIS: https://www.leibniz-zmt.de/de/forschung/wissenschaftliche-projekte/oasis.html
MOPGA: https://www.bmbf.de/de/make-our-planet-great-again-9811.html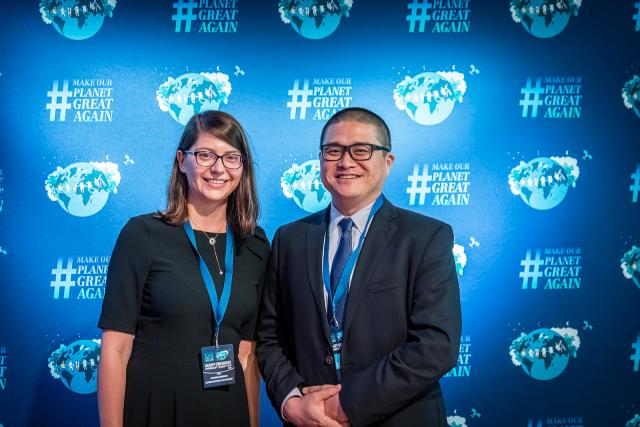 Dr. Henry Wu and Dr. Alexandra Okhrimenko of the DAAD at the MOPGA Conference | KONRAD