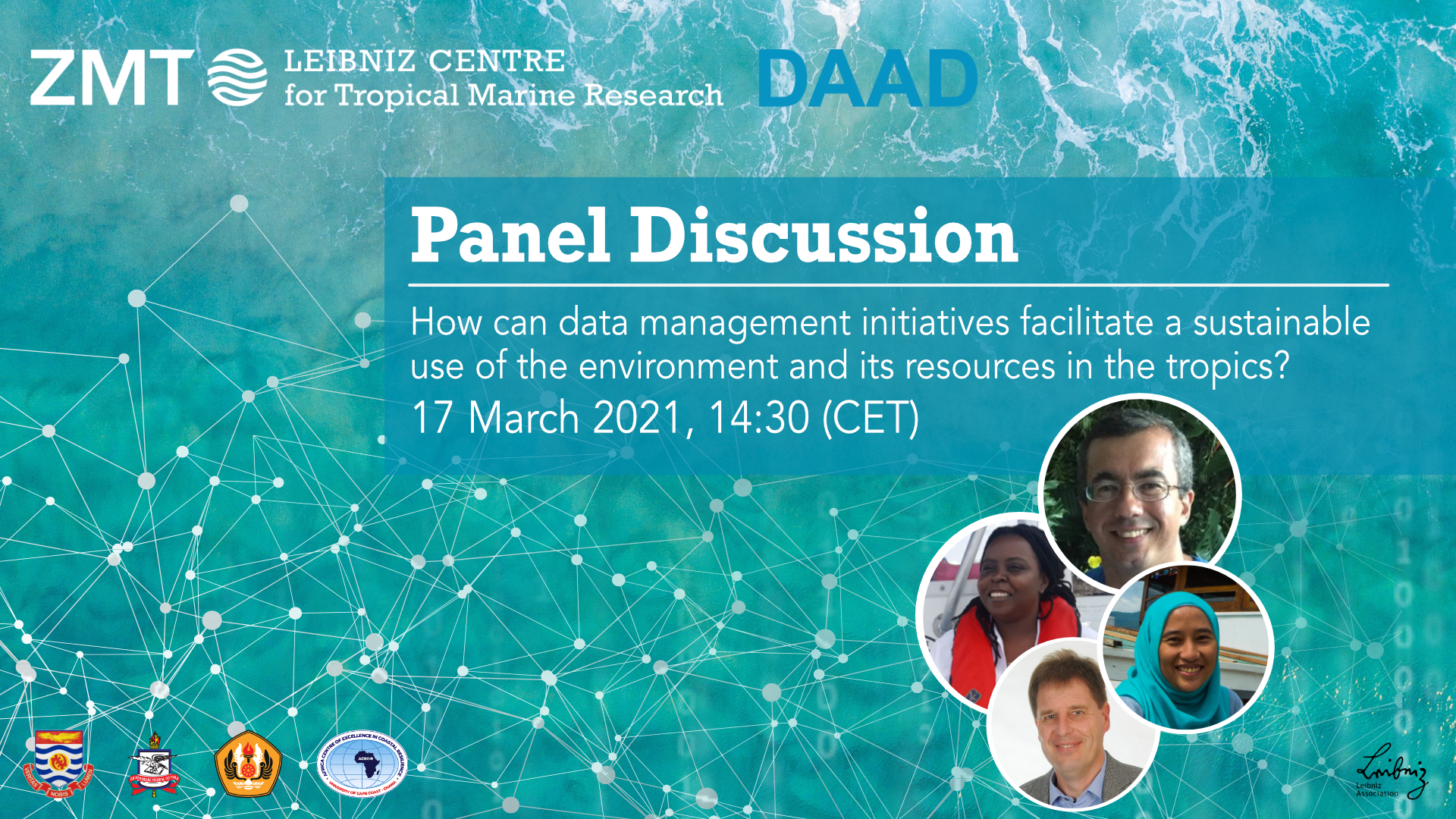 The management of research data, in particular of international collaborative projects is always a challenge. Technical infrastructures, scientific ethics, administrative challenges, and undefined data ownerships can hinder initiatives for joint data usages. This can be even more challenging if only limited budgets are available for data management. Like other institutes, the Leibniz Centre for Tropical Marine Research (ZMT), which strongly relies on long-lasting and trustful partnerships faces the challenges to develop joint data strategies. In the course of the newly established workgroup, the digital ZMT initiative (DigiZ) will have its mission to offer user-friendly and safe data infrastructures and to formulate basic guidelines for international collaborative data projects.
The ZMT will host a panel discussion on
How can data management initiatives facilitate environmental sustainability in the tropics?
With international experts of data initiatives, we want to
Raise awareness for critical issues of data management
Assess which strategies have or haven't worked in national and international data initiatives
Identify the potential of data initiatives to provide a backbone for managing marine resources
Provide ideas for joint collaborations through data sharing
Define keystones for successful and sustainable implementation of databases
Register now!
(If you are already registered to attend the alumni conference you are automatically registered for the panel discussion)
THE PANEL



Nina Wambiji (Kenya / Advocate of data sharing for marine resource management)
PhD degree in Marine Environmental Sciences (Fish Physiology) from University of the Ryukyus, Okinawa, Japan
Assistant Director Fisheries at Kenya Marine and Fisheries Research Institute (KMFRI), Mombasa Centre, Kenya
Frank Oliver Glöckner (Germany / Research data evangelist)
Head of Data at the Computing Center of the Alfred-Wegener Institute, Helmholtz Center for Polar- and Marine Research
Head of

PANGAEA

- data publisher for Earth and Environmental Sciences
Professor for Earth System Data Science at at MARUM, Center for Marine Environmental Sciences, University of Bremen
Adjunct Professor of Bioinformatics, Jacobs University Bremen
Estradivari (Indonesia / Promoter of data use to link conservation ecology and policy making)
Four years at UNESCO, Jakarta, as Program Assistant for Small Islands and Indigenous Knowledge
Five years at the Indonesian Coral Reef Foundation as Science Program Manager & Deputy Director
PhD candidate at Leibniz Centre for Tropical Marine Research (ZMT)
Luiz Gadelha (Brazil / Data engineer working towards reproducible scientific workflows)
PhD degree in Computer and Systems Engineering from the Federal University of Rio de Janeiro (UFRJ)
Since 2004, he is a Technologist at the National Laboratory for Scientific Computing (LNCC) in Brazil
He has been involved in implementation of biodiversity databases such as the Brazilian Biodiversity Information System (SiBBr) and the Brazilian Marine Biodiversity Database (BaMBa)
Postdoctoral Researcher Friedrich-Schiller-University Jena, Germany