30/11/2020 | On 19 and 20 November 2020, the closing conference of European COST Action 'Ocean Governance for Sustainability – Challenges, Options and the Role of Science' took place under the motto 'Ocean Governance: Action insights and foreshadowing challenges'. The conference was hosted jointly by the German Development Institute / Deutsches Institut für Entwicklungspolitik (DIE) and the Leibniz Centre for Tropical Marine Research (ZMT), with funding from the European 'Cooperation in Science and Technology' (COST) programme.
The four-year COST Action analyzed current legislative and regulatory challenges for ocean sustainability from a transdisciplinary perspective. The concluding conference brought together over 300 researchers and professionals from more than 29 countries to reflect on the Action's research findings and to discuss emerging topics and upcoming challenges.
Prof. Dr Anna Katharina Hornidge, as chair of the action, and the conference's scientific organizer Dr César Giralo Herrera opened the event and introduced participants to the programme.
Three keynote addresses were given
by Prof. Edward H Allison (PhD), Principal Scientist at WorldFish on 'Equity and Justice in the Blue Economy';
by Prof. Yoshitaka Ota (PhD), Director Nippon Foundation Ocean Nexus, University of Washington, on 'Ocean Equity: why should we care?';
and by Prof. Kristina Gjerde (JD), Senior High Seas Policy Advisor for the International Union for Conservation of Nature, Marine and Polar Program on 'Advancing towards effective and equitable governance of the global ocean beyond national boundaries: progress, prospects and next steps.'
The keynotes set the frame for nine scientific panels covering a variety of topics ranging from privatization of the ocean over fisheries governance and seabed mining to connections between emerging infectious diseases and the ocean.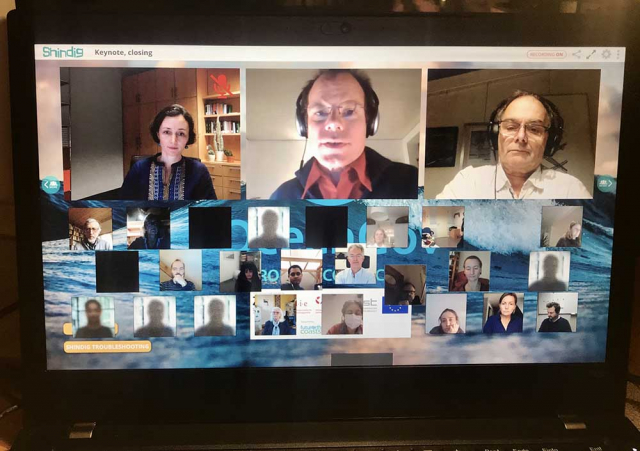 In their concluding address, action chair Professor Anna-Katharina Hornidge (DIE) and Working Group leaders Professors Achim Schlüter (ZMT) and Maarten Bavinck (University of Amsterdam) emphasized the network's achievements in strengthening the marine social sciences and gave an outlook on its potential for future cooperation for ocean sustainability.
A special thanks goes to the conference organizing team: Hannah Jansen (ZMT), Miguel Leyva (DIE), César Giraldo Herrera (ZMT) and Ina Lehmann (DIE).