How do humans make sense of oceans and coasts? How may varied marine epistemologies and ontologies along the equator be diversely explored?

Since the paradigmatic 'oceanic turn' profoundly influenced the humanities and the social sciences, we ask how largely qualitative ethnographic marine research may further help in 'de-terrestrialising the Academy.' Moreover, we question how inter- and trans- disciplinary marine social science research contributes towards realising a more inclusive, interconnected and pluriversal world. These lines of inquiry constitute the key conceptual, methodological and empirical questions that guide the ZMT´s Development and Knowledge Sociology (DKS) Working Group, led by Prof. Dr. Anna-Katharina Hornidge.
| | |
| --- | --- |
| | Research areas (yellow) and PhD fieldwork regions (green) |

Research Regions
The development of our research agenda is informed by recent and on-going fieldwork by cluster members together with long standing partnerships in a number of geographical areas: Asia Pacific (Indonesia, Singapore, Vietnam and the Philippines), Central Asia and the Persian Gulf (Uzbekistan, Tajikistan and Iran), Latin America (Argentina, Brazil and Peru), East and West Africa (Ghana, Ethiopia and Tanzania).


Interdisciplinarity
The working group brings together researchers from a diverse range of disciplines including sociology, development studies, coastal geography, social anthropology, Southeast Asian and theatre studies, driven by a mandate to produce both disciplinary-based basic, as well as problem- and real-life-oriented research.

The epistemic pluralism of the collaborative cluster is further reflected in methodologies encompassing field-based ethnographic research, narrative and discourse analysis (in particular SKAD), case-study and Participatory Learning in Action approaches, 'follow-the-moving target' methods, oral history and visual ethnography, weaving together Post-Area Studies paradigms, Grounded Theory, interpretive phenomenology, alongside post-development, postcolonial and decolonial currents.


Three interlinked thematic pillars form the basis of our research: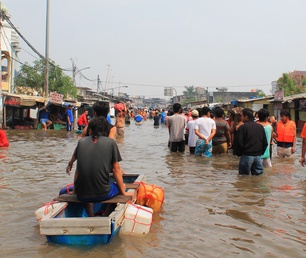 Marine Science Studies – Discourses of Knowledge
Oceans, coastal zones and other marine spaces are complex sites of hybrid human-nature interactions. As sites of intense liminality, mobility and political contestation, they set the context for complex transboundary debates on sea-level rise, ocean acidification, sand and salt mining, re-territorialisation, migration and discovery of new resource frontiers which continue to evolve along coastal zones and the high seas. Our work focuses on how local, regional and global interests and transformations shape contemporary discourses and practices around 'sustainable development', socio-technological innovation, growth and the Blue Economy, together with changing forms of resource extraction and governance. Our research engages with the diversity of forms of knowledge on marine spaces, underpinned by the shared commitment towards rethinking linkages between land and sea, and across socio-political and ecological sustainability concerns. Moreover, we study the manifold ways in which marine and coastal spaces are materially, relationally and symbolically lived (as ontologies), while shaping novel forms of transcultural inter- and transdicipinary research praxis that contribute to what we would like to call 'One World-research'.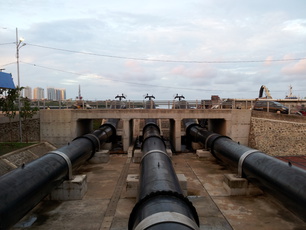 Oceanic Futures & Foresight Studies
The theorising and empirical study of ideas, practices and the imaginaries of (multiple) futures remains an ever-evolving research field that cuts across the interdisciplinary sustainability sciences as well as the theoretical social sciences and the humanities. As concepts such as 'Postnormal Times' (Sardar, 2013 & 2015) gain renewed interest or new heuristic purchase, scientific and civil society debates on what is seen to be normatively desirable (for example the notion of ocean governance for the planetary futures we want), by whom and how to get there, continue to unfold. Our work centres on understanding how assemblages of technologies and institutions, together with traveling policies, practices and discourses (e.g. blue-prints and modelling methodologies) shape the ways in which marine spaces and polities are presently being governed, together with the types of normed orders that are likely to prevail in the future. Moreover, cluster members are making important contributions to the understanding of 'futuring' as a dynamic, multi-stranded and contested process, drawing insights from across knowledge sociology, political ecology and science, technology and innovation studies.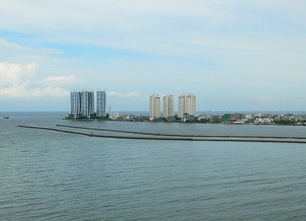 Coastal Transformation Studies
The call for socio-ecological transformation has traditionally embodied questions around human adaptation, resilience and trajectories of anticipatory learning. Over the past decade, discourses around rethinking diverse adaptation and transformation pathways combined with the acknowledgement to widen new and hybrid spaces for collaborative decision-making have patterned what can be broadly identified as Transformation Studies. Research in this area focuses on the varied multi-scalar politics, discourses and technics of how coastal change is being imagined and re-designed in the wake of the 'unknown unknowns' responsible for the increased needs to manage uncertainties. We also engage with a host of phenomenological questions underpinning how fluid, interactive coastal spaces themselves are being reconfigured – through processes of categorisation, mapping and socio-technological modification - in ways that have far-reaching impacts on human-nature entanglements, and lived realities patterning vastly dissimilar coastlines.


---
Vacancies
---
Teaching (WS 2017/2018)
Special Sociology in BA Sociology and Genral Studies in FB8, University of Bremen

---


News
09.08.2018 ꓲ Congratulations!! Gerba Leta Dufera has successfully held his PhD defense at the Center for Development Research (ZEF), University of Bonn. For the last two years, he has worked on his thesis "The Ethiopian Agricultural Extension System and Its Role as a 'Development Actor': Cases from Southwestern Ethiopia" at the ZMT. First supervisor: Prof. Dr. Anna-Katharina Hornidge (ZMT & University of Bremen); Second supervisor: Prof. Dr. Christian Borgemeister (ZEF, University of Bonn); External supervisor: Prof. Dr. Kristof van Assche (University of Alberta); Head of the commission: Prof. Dr. Mathias Becker (University of Bonn, Agricultural Faculty). We whish Gerba all the best for his personal and academic future.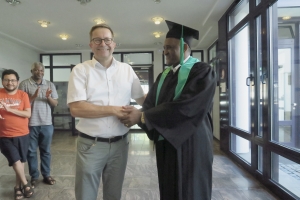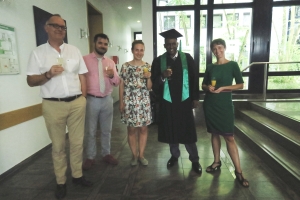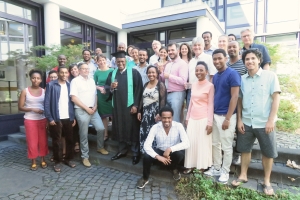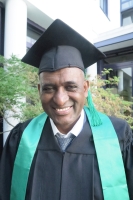 07.08.2018 | Anna-Katharina Hornidge is co-organising the Leibniz Conference on Sustainable Development Goals (September 14th 2018, Berlin) as a member of the scientific advisory board and by moderating the two panels "Social inequalities, coastal megacities and environmental crises" and "Sustainable food systems from agriculture and aquaculture". In the first panel, DKS postdoc Rapti Siriwardane-de Zoysa will be presenting her recent field work, related to the EMERSA project. More information on the conference and the participation of the ZMT under: https://www.leibniz-zmt.de/en/news-at-zmt/news/overview/free-registration-now-open-for-leibniz-association-s-sdg-conference.html
18.05.2017 ꓲ Anna-Katharina Hornidge will be advising the Belmont Forum in establishing a new funding line. The organisation counts some of the world's major and emerging funders of global environmental change research amongst its members. More information here...
01.03.2017 ꓲ The Pressedienst Bremen reported prior to the Ocean Governance conference (March 6-8) on the conference's framework. More information here...
01.03.2017 ꓲ Maria Jose Barragan-Paladines published a short article entitled 'Small-Scale Fisheries versus Whale-Watching Tourism: The Story of Puerto López'. In: Arcadia, Spring 2017, no.3. Rachel Carson Center for Environment and Society. http://www.environmentandsociety.org/node/7744.
10.11.2016 ꓲ Interview with Anna-Katharina Hornidge on epistemic hegemonies and the interrelation of area studies and the disciplines.
01.11.2016 ꓲ Professors Stefan Helmreich and Heather Paxson from the Massachusetts Institute of Technology's Department of Anthropology recently facilitated an interdisciplinary workshop hosted at ZMT. The event, entitled "Infrastructures of NatureCulture in the Realm of the Intangible and Invisible" was organised jointly by Bremen's Nature-Cultures Lab and members of ZMT's Development and Knowledge Sociology cluster. More information here...

Anna-Katharina Hornidge is co-hosting the "Power in Contradiction" lecture series as part of the "Worlds of Contradiction" collaborative initiative at the University of Bremen. Together with Martin Nonhoff, Susanne Schattenberg and Ingo H. Warnke, the initiative will feature a series of diverse interdisciplinary talks throughout the winter semester (October 2016/ February 2017).
Every Wednesday: 18:15 – 19:45, OEG 3790, Research Centre for East European Studies. www.woc.uni-bremen.de

20.09.2016 ꓲ Inaugurating EMERSA – a new DFG-funded project under SPP 1889
EMERSA (Epistemic Mobilities and the Governance of Environmental Risks in Island Southeast Asia) is a research project that recently secured DFG funding within the broader SPP 1889 initiative – Regional Sea Level Change and Society. The three-year project kicked off with a scientific workshop hosted at ZMT on September 13 & 14, 2016, with partners from the University of Bremen´s Sustainability Research Center (artec), the Universitas Indonesia, together with members from ZMT´s Development and Knowledge Sociology Working Group. The project is led by Prof. Dr. Anna-Katharina Hornidge (ZMT) and Prof. Dr. Michael Flitner (artec).

01.09.2016 ꓲ IASS Policy Brief
The ZMT contributed to a recent IASS Policy Brief 3/2016.
The new IASS Policy Brief Capacity Development for Oceans, Coasts, and the 2030 Agenda envisions ways to strengthen societal and governmental abilities to achieve good ocean governance. The policy brief was launched on the occasion of the IUCN World Conservation Congress at an IASS-hosted event on oceans and the 2030 Agenda. More information here...
---

Just published
Vila Seoane, M. & HORDNIGE, A.-K. (2018): The social shaping of media technologies' multiple uses: the case of Mídia NINJA in Brazil. In: Information, Communication & Society. DOI:10.1080/1369118X.2018.1500623.
Nyang'au, I.M., Kelboro, G., HORNIDGE, A.-K., Midega, C.A.O., Borgemeister, C. (2018): Trans-disciplinary Research: Collaborative Leadership and empowerment towards the Sustainability of Push-pull Technology. In: Sustainability 10, 2378; DOI:10.3390/su10072378.
Gissi, E., Portmann, M., HORNIDGE, A.-K. (2018): Un-gendering the Ocean. Why women matter in ocean governance for sustainability. In: Marine Policy 94, 215-219. DOI: 10.1016/j.marpol.2018.05.020.
LETA, G., Kelboro, G., Stellmacher, T., Van Assche, K., HORNIDGE, A.-K. (2018): Nikinake: the mobilization of labour and skill development in rural Ethiopia. In: Natural Resources Forum. DOI: 10.1111/1477-8947.12145.
Salas, S., BARRAGÁN-PALADINES, M.J., Chuenpagdee, R. (eds.) (2018): Viability and Sustainability of Small-Scale Fisheries in Latin America and The Caribbean. MARE Publication Series. Springer. ISBN: 978-3-319-76078-0.
Hempel, G., Hempel, I. & HORDNIGE, A:-K. (eds.) (2017): Klüger nutzen, besser schützen. Bremer Forschung an tropischen Küsten. Bremen: Falkenberg Verlag. ISBN: 3954941341.
Mielke, K. & HORNIDGE, A.K. (eds.) (2017): Area Studies at the Crossroads: Knowledge Production after the Mobility Turn. New York: Palgrave MacMillan. ISBN: 978-1-137-59834-9.

BARRAGAN-PALADINES, M.J. & Chuenpagdee, R. (2017): A Step Zero Analysis of the Galapagos Marine Reserve. In: Coastal Management 45(5), 339-359. DOI: 10.1080/08920753.2017.1345606.

Alava, J.J., Tatar, B., BARRAGÁN-PALADINES, M. J., Castro, C., Rosero, P., Denkinger, J., Jiménez, P.J., Carvajal, R., Samaniego, J. (2017): Mitigating Cetacean Bycatch in Coastal Ecuador: Governance Challenges for Small-scale Fisheries. Marine Policy (Available online 24 May 2017). DOI: 10.1016/j.marpol.2017.05.025.
Jentoft, S., Chuenpagdee, R., BARRAGÁN-PALADINES, M.J., Franz, N. (eds.) (2017): The Small-Scale Fisheries Guidelines. Global Implementation. MARE Publication Series. Springer. ISBN: 978-3-319-55073-2.

HORNIDGE, A.-K., Shtaltovna, A. & Schetter, C. (eds.) (2016): Agricultural Knowledge and Knowledge Systems in Post-Soviet Societies. Interdisciplinary Studies on Central and Eastern Europe - Volume 15. Bern: Peter Lang. ISBN: 978-3-0343-2006-1.

Contributions:
Shtaltovna, A., Mandler, A., Salzer, A.K., HORNIDGE, A.-K., Schetter, C., de Danieli, F., Boboyorov, H., Hofman, I., de la Croix, J.F., Van Assche, K., Fey, L., Shaumarov, M., Djanibekov, N., Birner, R., Röing, T., Crewett, W.

SIRIWARDANE, R. and HORNIDGE, A.-K. (2016): Putting Lifeworlds at Sea: Studying Meaning-Making in Marine Research. In: Frontiers in Marine Science 3(197), 1-13. DOI: 10.3389/fmars.2016.0019710.3389/fmars.2016.00197.

Kim, E.A., HORNIDGE, A.-K. (2016): IWRM in Uzbekistan: A global concept with local consequences. In: Borchardt, D., Bogardi, J., Ibisch, R. (eds.): Integrated Water Resources Management: Concept, Research and Implementation. Cham: Springer, 201-220. ISBN 978-3-319-25071-7

Ibisch, R.B., Leidel, M., Niemann, S., HORNIDGE, A.-K., Goedert, R. (2016): Capacity Development for Integrated Water Resources management: Lessons Learned from Applied Research Projects. In: Borchardt, D., Bogardi, J., Ibisch, R. (eds.): Integrated Water Resources Management: Concept, Research and Implementation. Cham: Springer, 335-376. ISBN 978-3-319-25071-7.

HORNIDGE, A.-K., Oberkircher, L., Tischbein, B., Schorcht, G., Bhaduri, A., Awan, U.K., Manschadi, A.M. (2016): Reconceptualising Water Management in Khorezm, Uzbekistan - Recommendations towards IWRM. In: Borchardt, D., Bogardi, J., Ibisch, R. (eds.): Integrated Water Resources Management: Concept, Research and Implementation. Cham: Springer. 569-602. ISBN 978-3-319-25071-7.

Schulz, K. and SIRIWARDANE, R. (2016): The Risk Frontier: Perceiving Social Transformations in Rural and Peri-urban West Africa Through a Territorial Lens. In: Yaro, J.A. and Hesselberg, J. (eds.): Adaption to Climate Change and Variability in Rural West Africa. Cham: Springer, 171-189.

Amankwah, K., Shtaltovna, A., Kelboro, G. & HORNIDGE, A.-K. (2016): A critical review of the follow-the-innovation approach: Stakeholder collaboration and agricultural innovation development. In: African Journal of Rural Development 1(1), 35-49.
Van Assche, K. & HORNIDGE, A.-K. (2015): Rural development: Knowledge and expertise in governance. Wageningen: Wageningen Academic Publishers.ISBN: 978-90-8686-256-6. DOI: 10.3920/978-90-8686-812-4.
Schulz, K. & SIRIWARDANE, R. (2015): Depoliticised and technocratic? Normativity and the politics of transformative adaptation. Earth System Governance Working Paper 33. Lund and Amsterdam: Earth System Governance Project.