Drawing workshops as a method within the ZMT research project TransTourism

TransTourism, a research project funded by the German Ministry for Education and Research (BMBF), works together with coastal tourism communities to address challenges of wastewater management towards sustainable tourism development. It includes three field sites, namely San Andres in Colombia, Gili Trawangan in Indonesia, and Zanzibar in Tanzania. Tourism is the main economic activity of these coastal islands, and marine ecosystems are important for their tourism activities.
Drawing workshops with children is an emerging method to understand perceptions of current condition and anticipated future of the marine environment for an important stakeholder group. The young generation has long been under-represented as stakeholders in research and management despite their high relevance to future and sustainable management of natural resources and tourism. Due to the geographical characteristics of these islands, children's everyday life is mostly bounded to the island frequented with tourism activities. In other words, children share their leisure space with tourists. Thus, it is essential to include their perceptions as one type of information for decision-making. Drawing creates a fun environment for children to freely express their feelings and opinions.
---
Drawing workshops on Gili Trawangan
Four drawing workshops with 91 school children were conducted on Gili Trawangan in Indonesia on 12-17 January 2023 (Map 1 and Figure 1 below).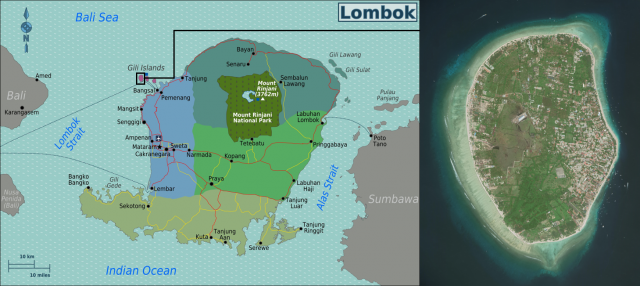 Map 1 Location of Gili Trawangan, Indonesia


Students were asked to make two drawings based on two broad questions:
What do you see/do in the sea or at the coast now?
What do you want to see/do in the sea or at the coast five years later?
After they finished the two drawings, they took part in a short individual interview conducted by local field assistants to describe and explain what they had drawn. Drawings done by children on Gili Trawangan have shown that they anticipated a more beautiful beach and sea with more animals. Some drew beaches around Lombok instead of Gili Trawangan. Lombok is closely linked to Gili Trawangan but has a different level and nature of tourism development. Some others drew about solid waste problems along the coast, which could be partly explained by the idea of Gotong Royong (meaning collective action) they learnt in textbook and the clean-up programme at the school. Students are encouraged to do clean-up at the beach when trash is brought to the coast by wind or rain (Short interview with school teacher, 7 February, 2023). This could also be partly linked to the joint efforts of Gili Eco Trust and FMPL (Front Masyarakat Peduli Lingkungan, local community environmental awareness group and solid waste management cooperative) in trash collection and weekly beach clean-ups. The results of the drawing workshops also collect a snapshot of the baseline perceptions as well as values of young people, for future studies.
Although none of the drawings has shown issues related to wastewater or tourism development, they have showed what the children anticipate for the future, which includes healthier ecosystems (e.g. more marine animals swimming in the sea, more corals and seagrass) and their use of the marine space (e.g. swimming with their friends, playing football at the beach). This anticipated future is not achievable without sustainable tourism and wastewater management, which is a very strong set of information to be included and presented to the stakeholders and decision-makers in decision-making workshops and policy recommendations.
Figure 1: Drawing workshops on Gili Trawangan.
---
Joint ZMT-UNRAM experiential learning using drawing workshops in Lombok
Another series of drawing workshops was organised in Lombok as an experiential learning project of "Merdeka Belajar Kampus Merdeka (MBKM; Independent Learning Outside Campus) in the University of Mataram (UNRAM). MBKM is a programme that allows university students to develop skills outside campus before employment. This is an important opportunity for capacity building and exchange. Currently, MBKM is implemented through the Marine Science Study Programme of the Department of Fisheries and Marine Science in UNRAM, partnering with different organisations for internship or participation in research projects. I was one of the MBKM field supervisors leading a small research project – Drawing Workshops with Children – in March-June 2023. This project was an extension of the drawing workshops within TransTourism to explore children's perceptions of the sea and coast in Lombok, and funded by the Kellner & Stoll Stiftung.
Five UNRAM students participated in this project; two field assistants (Matla'ah and Susi) who helped in the drawing workshops in Gili Trawangan were also engaged throughout the project to foster exchange. The training portion of the project for the university students involved a series of workshops (introduction; planning and preparation I & II; analysis I & II; individual presentation and reflection), two drawing workshops with school children, and a 3-day fieldtrip to Gili Trawangan. The skills the MBKM students built were qualitative research methodology including data collection, and data analysis and interpretation, as well as intercultural communication.
Preparing for the drawing workshops, the MBKM students made two drawings and practised interviewing in a pair (Figure 2).
Figure 2: Practising interviews before drawing workshops.
They also organised meetings with school principal of a local school in Mataram City – SDN 21 Ampenan – to discuss collaboration and conducted short interviews with school teachers to understand what the children learn and whether similar events took place before (Figure 3).
Figure 3: Meeting with school principal and teachers in SDN 21 Ampenan.
A total of 49 children took part in the drawing activity on 4 May (Figure 4).
Figure 4: Drawing workshop in SDN 21 Ampenan.
Drawing workshops in Sambelia
With the experience in Mataram, the MBKM students took the lead in organising another drawing workshop in SDN 1 Labuan Pandan in Sambelia, East Lombok. It took place on 11 May with participation of 39 children (Figure 4). Children from both schools have showed their tremendous creativity through their drawings. The school principals and teachers of both schools believe that the activity will certainly have a positive impact on the school children. The drawing workshops were also welcomed by the parents (an informed consent form was signed by parents before participation).
---
MBKM Fieldtrip to Gili Trawangan
Figure 5: Fieldtrip to Gili Trawangan
It was then followed by a 3-day field trip to Gili Trawangan on 18-20 May. The MBKM students and their supervisor Dr. Nurliah Buhari visited Gili Trawangan with the aim to understand different issues around tourism development and conditions of the marine environment, and the work done by different NGOs. It was also aimed for them to see connections between the drawings made by children on Gili Trawangan and their participant observation. It was hoped that their experience could bridge back to their studies in marine social science.
They had a very intensive schedule but fruitful experience on Gili Trawangan (Figure 5). They had meetings with different local organisations, including the Tourism Awareness Group (Pokdarwis), Community Monitoring Group (Pokmaswas), Tourism Service Cooperative (Koperasi Jasa Wisata), Wildlife Conservation Society and FMPL, to learn about local initiatives to conserve the marine environment and develop tourism more sustainably.
They also joined an island clean-up, a re-cycle tour and snorkelling tour organised by Gili Eco Trust to learn about the solid waste issues and their coral restoration projects. During their free time, they did observation of tourism activities on the island and conducted some short interviews with tourists and business owners/workers. We then had the fourth workshop to talk about data analysis of the drawings collected.
Feedback from students and supervisors
The MBKM students participated in the project with great enthusiasm and commitment despite challenges of doing social research. They had also shown their tremendous progress in their individual presentation in the last workshop. As the team leader reflected:
"Saya banyak belajar di project ini, seperti membuat transkrip, coding data, menyusun dan melaksanakan rancangan project penelitian. Dalam hal ini tentu saja banyak tantangan yang harus saya hadapi karena bagaimanapun semua hal ini adalah pengalaman baru bagi saya dan saya belajar dari sana." ("I learnt a lot in this project, such as making transcripts, coding data, organising and implementing a research project design. In this case, of course, there were many challenges that I had to face because after all, all these things were new experiences for me and I learnt from them.")
Their supervisor Dr. Nurliah Buhari also values this learning experience, saying:
"In this program, students gain knowledge and experience to design, carry out and report research results. Students gain experience in implementing a data collection method through a drawing workshop. In addition, students also gain knowledge in analyzing data. Students also gain experience working with foreign researchers so that they can better understand work ethics. In addition to these experiences, students can also improve their skills to speak in English so as to increase their confidence in public presentations. These experiences are new and refreshing things that they get from learning experiences outside the campus."
Undoubtedly, the keen participation and honest sharing of the school children have made both series of drawing workshops successful through their insightful drawings. Without the invaluable collaboration and support from the school principals and teachers, local field assistants from Gili Trawangan, as well as MBKM students and supervisors, these two events would not have been possible. All the drawings were compiled into a photobook and given to the respective schools. The photobooks were co-produced with MBKM students and local field assistants from Gili Trawangan.
---
Contributors to drawing workshops in Indonesia
Dr. Connie Kwong (ZMT) | Dr. Nurliah Buhari (UNRAM) | Ir. Saptono Waspodo, M.Si (UNRAM) | Ibadur Rahman, M.Si (UNRAM) | Wiwid Andriyani Lestariningsih, M.Si (UNRAM) | Cheang Chandra Kusuma (UNRAM) | Destikawati (UNRAM) | Fahlian Abkar (UNRAM) | Lalu Ferdi Alfarisi M (UNRAM) | Linda Rostina (Gili Trawangan) | Matla'ah (Gili Trawangan) | Nin Sasvia (UNRAM) | Rahmatullah (Gili Trawangan) | Susi Lestari (Gili Trawangan) | Viny Lovita (Gili Trawangan) | Yani Mulyani (Gili Trawangan)
Acknowledgement
Special thanks to Prof. Dr. Marie Fujitani for her very helpful comments.
Relevant blogpost by MBKM students writing about their first drawing workshop experience: https://ilmukelautan.fp.unram.ac.id/mbkm/
Author Dr. Connie Kwong, Postdoctoral Researcher, WG Deliberation, Valuation and Sustainability, Leibniz Centre for Tropical Marine Research (ZMT)