As a postdoc or early-stage group leader, you have already in­ves­ted a lot of time and ef­fort into re­search train­ing.
At this point of your ca­reer, you will set the course for either fol­low­ing a re­search track in the fu­ture, or for em­bark­ing a dif­fer­ent path in an aca­demic or in a non-aca­demic field.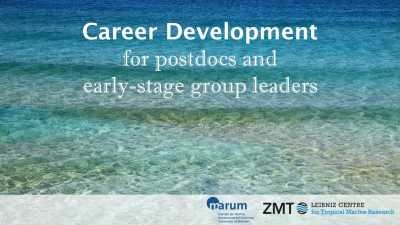 With a series of work­shops, ZMT and MARUM aim to support you in
developing ideas and perspectives,
making decisions, and
further developing your transferable skills.
You will gain hands-on ex­per­i­ence and be­come fa­mil­iar with tools you can use to de­velop your fur­ther ca­reer.
The ca­reer de­vel­op­ment work­shops are or­gan­ised and offered in co­oper­a­tion with MARUM-GLOMAR. Our idea is to foster exchange between postdocs from different marine institutes and reach a broader target group.
---
Work­shop Pro­gramme 2021
| | |
| --- | --- |
| | |
| | 19 Novem­ber, 3 and 10 Decem­ber 2021 |
More course are being planned. Stay tuned!