Dieser Text ist zur Zeit nur auf Englisch verfügbar...
Coral reefs occupy <1% of the seafloor yet harbour a quarter of marine biodiversity in the world. They contribute the protein upon which hundreds of nations depend, underpin enormous sources of economic income and employment, and shelter 150,000 km of tropical coastlines from erosion.
Planetary‐scale climate change and a wealth of anthropogenic pressures have altered coral reefs worldwide, and are projected to worsen. Our research group focuses on understanding how reefs function in the Anthropocene viewing humans as major engineers of environmental change, threat mitigation, preservation, and restoration. Our work spans four research themes:


Reef functioning in our changing climate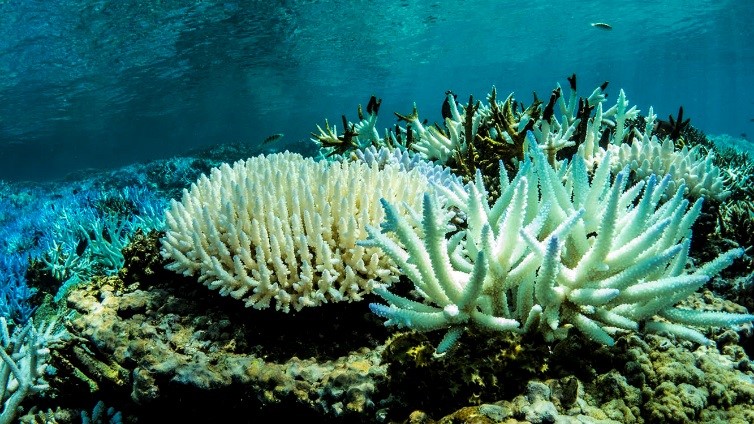 Photo: Bleached reef in Fiji, by Peter Mumby
Projects framed in this theme aim to understand how reefs recover or reorganise following acute climate-driven perturbations (e.g. bleaching events), and how their functional diversity varies across latitude and changes in response to rising sea surface temperatures (CLIFTEP). We also aim at quantifying current levels of ecosystem functions underpinned by mobile reef fauna (e.g. fish) and predict how these will change under future realistic climate change scenarios (REEF FUTURES).
Reefs and ocean pollution
Here we focus on documenting corals' responses to a range of pervasive ocean pollutants including microplastics, herbicides, and sunscreen filters. We ask whether a) corals react differently to microplastics of different shapes, b) microplastics disrupt key ecological functions of corals, and c) polyps undergo high levels of stress when inspecting or ingesting microplastics.
Most work in this theme is carried out at our Marine Experimental Facility (MAREE) and will develop in further novel directions in collaboration with the Microsensor Group in the Max Planck Institute for Marine Microbiology.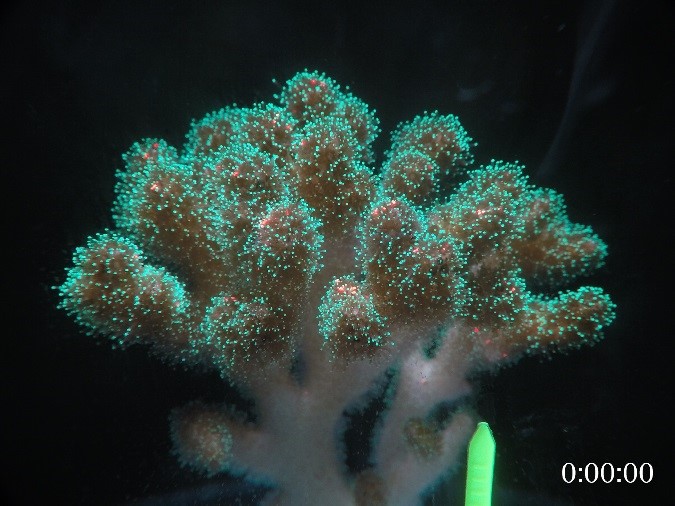 Small colony of Pocillopora damicornis exposed to irregular PET microplastics in the MAREE. In the field, we have also aimed at understanding how coral reefs living in atypically turbid and polluted conditions function. In this context, we joined the research efforts of Pontificia Universidad Javeriana de Cali and Fundacion Ecomares in Varadero reef which may paradoxically be one of the best coral reefs n the continental shelf of Colombia despite being exposed to heavy industrial and sewage waste.
Protecting reefs functioning with traditional conservation measures
Projects in this theme investigate the role of marine protected areas (MPAs) and fishing gear regulations in sustaining functionally diverse fish communities over time. We also ask whether reefs within protected and fished areas exhibit divergent post-disturbance trajectories. This has been possible by establishing long-term field experiments but also analysing long term coral reef monitoring datasets.



Linking functional traits, functions, biodiversity and reef resilience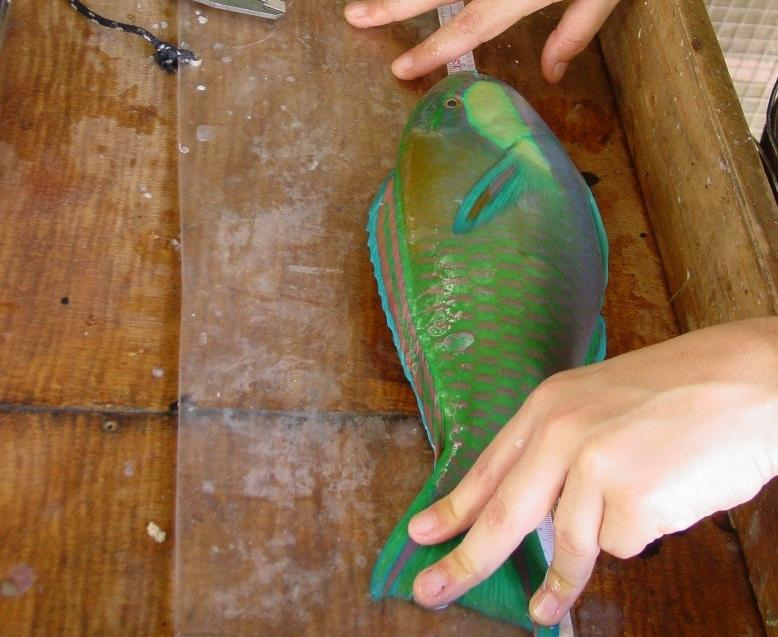 S. Bejarano measuring fish morphology during catch surveys in Pohnpei by Kevin Rhodes
This theme is a fundamental pillar to all other themes. We concentrate here in measuring and compiling different functional traits for different species and individuals, understanding their relationship to function levels, and how they make species more or less vulnerable to perturbation. So far we have focused on fish traits (morphological and behavioural), asking how morphology relates to swimming performance and proving that strong wave energy prevents certain species from feeding affecting the make-up of herbivory.